Hansen played 111 games for her Canterbury University side, playing in a number of positions, including the entire front row, blindside flanker and No 8. She joked and said she won't mention the other positions she played.
Hansen started her coaching journey while she was still playing as there was no forwards coach at the time.
"Our senior players did a lot of the coaching, so I got to the end of my playing career and had a bit of a player-coach role and then ended up taking over that forwards coach role," said Hansen.
"I then got asked to do the Canterbury Under 18s which was really cool as I got to do that with a good friend of mine and loved it. That's when I realised coaching was something that I wanted to get a bit more seriously into and it's sort of taken off since there."
A teacher and current deputy principal at a Christchurch school, Hansen was part of the first ever New Zealand women's Barbarians team, she then got a role as the set piece coach for the champion Canterbury women's side.
Last year it was announced that the Barbarians assistant coach would join the Black Ferns management team as their selected Rugby World Cup 2021 coach intern.
World Rugby set up the internship program as part of its plan to increase the number of female coaches and wants at least 40 per cent of all coaches at the 2025 World Cup to be women.
Whilst it has been incredibly difficult for players and management to deal with the postponement of the pinnacle tournament this year, Hansen said there are aspects of the decision which are quite advantageous for her, as she gets to be in the environment for a little longer. But first and foremost, she felt for everyone who has worked so hard in the build-up for the last four years.
"I thought about others before I thought about how it affected me. Some of those girls who have been here for a really long time and are working really hard, they were grieving. I was thinking about how I could be a support to them in helping them get through it."
As the Black Ferns build towards their home World Cup, which will now take place in the later stages of next year, Hansen intends to soak up as much as she can in the high performance environment.
"I can't help being a sponge. There is so much to learn and it's probably just as much on the grass as it is off the grass in terms of planning and culture. This environment is very different to any I have ever worked in before, there are lots of moving parts, but I also hope that I have been able to come in and add value."
Hansen has got a mentor in arguably one of the world's best scum technicians, Mike Cron. The former All Blacks scrum coach has attended Black Ferns training camps over the last few months and has been incredibly helpful for Hansen in the early stages of her coaching career.
"I rang Crono [Mike Cron] last year and said here's where I'm at, I'm taking over this role at Canterbury and I'm going to be looking at set piece. I said I'd love to get alongside you and talk about where I want to take the team and he said come around.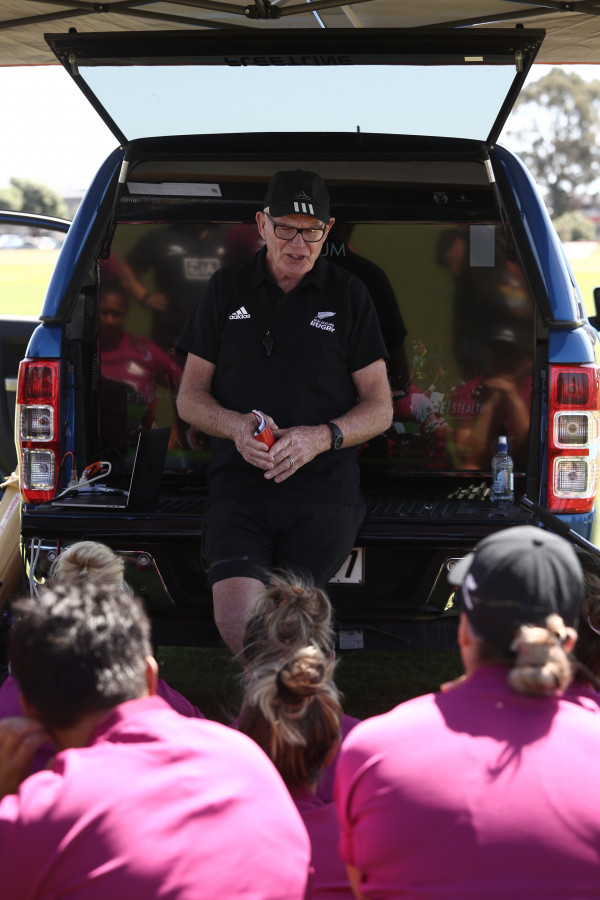 "He's got a bit setup in the shed at home with a massive TV, so we plugged in and went through a whole bunch of stuff around scrums and lineouts."
Ever since that initial meeting, Cron has been happy to help Hansen. Whether she tags along with him to his coaching sessions at schools or club trainings, he's been open and willing to share his knowledge with her.
"He has this ability to put really complex stuff in a simple way and he's been massive for me. It's the same with his son, Dan Cron [Hurricanes assistant coach] as well. I had huge growth being away with him in the Barbarians group last year."
Hansen enjoys the set piece aspect of the game and while she admits she doesn't have a time limit or set goal, she wants to continue to grow as a scrum and lineout coach.
"I am also conscious of doing a good job. I have only had the Canterbury role for a year, so I want to make sure I do well in that. I am probably naturally someone who is a bit more of a big picture thinker, but I love set piece and that has been a space where I have been able to be surrounded by some amazing people and resources who have been really supportive.
"That's my path at the moment."