Like a legion of fans at the turn of the century Belford was quick to embrace Wellington's new waterfront rugby ground when Westpac Stadium opened its gates to Investec Super Rugby for the first time.
"It's funny because I can't recall who we played in that first game we went to, but I know it was the first year of the Stadium in 2000 and we had a family pass," Belford said. "My brother Talia, my sister and me all went in together and it was actually our present for mum and dad for Christmas that year."
Belford remembers that first season on Wellington's waterfront fondly for the shared memories it created for his family over the next five seasons, but also for what they witnessed on the field.
"It was a time when there was 20-25 thousand people no matter what. It didn't always go our way, but we had that backline."
Belford was a player of note himself at the time, a Wellington Lions representative on the wing, but, like so many fans, he was in awe of the quality of the Hurricanes players from 9-15.
"Man, Jason Spice, David Holwell, Pita Alatini, Tana, Jonah, Christian Cullen, Brad Fleming, Lome Fa'atau, there were so many. I remember everyone came to the game because of that backline."
Belford's passion for the Hurricanes was so great that in 2012 he took his support to another level by launching a supporters' group to be known as The Flying Squadron.
"I remember starting it up and it was ironic that when the Hurricanes allocated us an area for the Flying Squadron it was almost exactly in the same seats as our family had sat for those four or five years, Aisle 23 on the right of the players' tunnel, third row from the front.
"I'd asked them to find a home for the Squadron in what we would call the Hangar and they picked the same spot where my parents' seats had been. That was pretty cool."
Belford said the philosophy behind the Flying Squadron had been about showing support regardless of results.
"I remember when Mark Hammett came in as the new coach and there was a bit of negativity around the departure of some players, Ma'a [Nonu] and Piri [Weepu]. They were both mates of mine and I was a bit annoyed too at the time, but I was still Canes hardcore.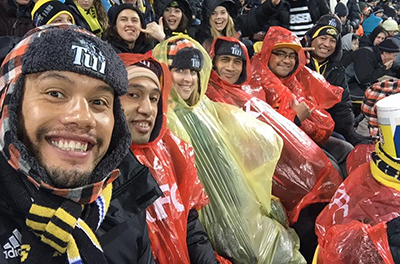 "I didn't necessarily agree, but I thought you don't change your team just because the players change, or the coach changes. So, I took a different approach and said, we need to get behind this team and get people to show their loyalty.
"The Squadron's slogan was 'Canes all the way'. For us as fans, we are always in the jersey, no matter who is selected, that's what a real fan is to me."
Belford said his loyalty paid off handsomely over the ensuing years as the Hurricanes made the final in 2015, then finally lifted their first Investec Super Rugby title in 2016.
"Boydy [Chris Boyd] and Plum [John Plumtree] came in and everything clicked and there was a final, then the title and now we are consistently a contender and always in the mix. I'm already looking forward to 2020."
As the year's past Belford and his Flying Squadron moved from chanting fans to family men and he now he regularly takes his own young children Briana and Liam to the Hurricanes home games.
"The coming season is looking awesome with the earlier kick off times. It will definitely make a difference for families. Just to be able to get the kids home that little bit earlier. It makes everyone's life a bit easier the next day."
Grab your Hurricanes 2020 season memberships HERE.