The 35-year old who lives in Brisbane, frequently travels to Christchurch, where she has been a Crusaders season member since 2015.
"It's been money well spent to be guaranteed a seat whenever I go back to Christchurch. I have great seats behind the Crusaders bench. I've been told I am a little noisy by a couple of the players, but they love how passionate I am."
Perry admits she came into supporting rugby quite late, but she recalls her first memory of the Crusaders in 2006.
"I went to see a friend (Berrick Barnes) play for the Queensland Reds and they happened to be playing the Crusaders. They beat the Reds 47-21 and I remember at the end of the game I only wanted to get a photo with Dan Carter. I laugh at it now because I wore a Reds cap to support Berrick and I still get stick for wearing it now."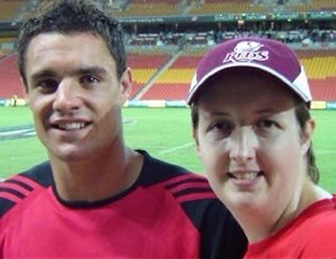 She is a proud Kiwi who runs the All Blacks Fans in Brisbane supporters club which has over 6500 members. Perry is a YouTube vlogger for her channel Chasing The Odd Shaped Ball, where she films her experiences travelling for rugby.
Perry's wife lives in Christchurch, so she gets back as much as she can to see her and also to catch the Crusaders in action. She has clocked half a million kilometres on the road for the Crusaders since 2014 when she decided to start travelling to see the team.
"This is why I made my YouTube channel to share my experiences travelling for the Crusaders and All Blacks. I was disappointed I wasn't able to get to the finals in Christchurch in 2018 and 2019 as I was studying. But I've also recently been diagnosed with Endometriosis and it's been quite debilitating for me."
The Crusaders are a team Perry has been proud to support for over a decade and they've certainly been an easy team to support given their success. They are the world's most successful non-international professional rugby team, having won 10 titles in 24 years of Super Rugby.
She said it's the culture the club tries to instil in its supporters that resonates with her.
"They have great family values on and off the field which is something I want to share with my own family. They are also very inclusive. I am a Jewish female and part of the LGBTQ community and the Crusaders have always treated me with respect and made me feel like I'm part of a family."
Perry has a number of favourite players, with Richie McCaw being top of that list, but she's got to meet several players over the years.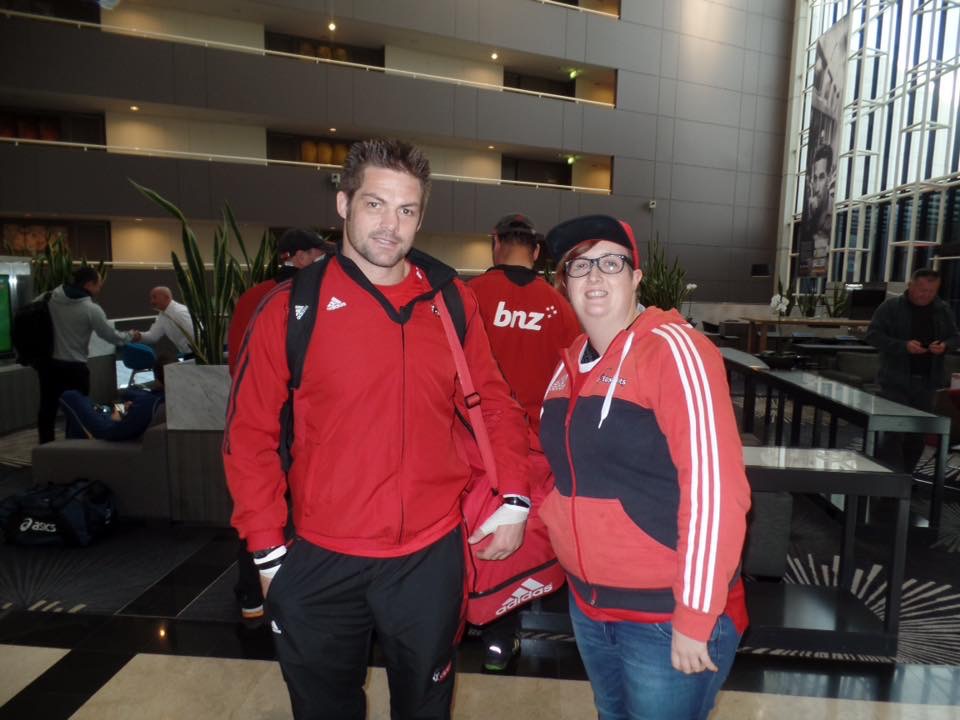 "I've got to know Dan Carter, Andy Ellis, Codie Taylor, Ryan Crotty, Jordan Taufua and David Havili and to me they are my favourites because they are such nice people and have always made an effort to come and say hello and have a laugh."
She has also travelled to Japan to watch Ellis and Carter play for the Kobelco Steelers and has another trip planned in March to watch them take on Ryan Crotty's Kubota Spears in Kobe.
All the travelling is worth it for this die-hard Crusaders fan. Perry said they are legends and some of the nicest people she's ever met. And she still believes that without a number of their veterans in 2020, the Crusaders will still dominate in the 25th year of Super Rugby.
"We have lost Kieran Read, Crotty, Matt Todd, Owen Franks, Taufua and Sam Whitelock's on sabbatical, but it will give the next generation the chance to start the future legacy of the Crusaders."
Grab your Crusaders 2020 season memberships HERE.