Mark Clayton was an 18-year-old student at Palmerston North's Massey University in 1996 when the Hurricanes hosted the Blues in the first ever professional rugby game to be played in New Zealand.
After many years spent supporting Auckland in the National Provincial Championship at Eden Park with his Dad, Mark was quick to jump on the Super Rugby bandwagon when it rolled into his university town.
"Two of us went to the game. Because we were massive Auckland fans, naturally we were going to be massive Blues fans. It was brand-new and exciting, the first game of professional rugby in New Zealand," Mark said.
Mark recalls an ominous start when Alama Ieremia scored the first try for the Hurricanes before the Blues dominated the second half to win an exciting game 36-28.
"If you watch the replays, the second half is very quiet because there is probably only two Blues supporters sitting among all the Hurricanes fans!
"What stood out for me most though was the dominance of the Blues in the second half. That really laid the platform for what we saw for the next two years from the side."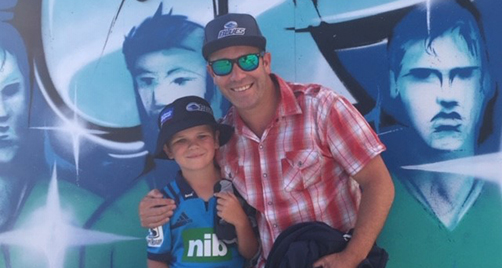 As Super Rugby quickly grew in popularity in its first year, Mark realised just how historic his $10 Hurricanes vs Blues ticket was.
"Super Rugby went gang-busters that first season and I knew it was pretty big. I still have my Blues jersey from the first season sitting at home and the ticket in a frame."
From that point, Mark was hooked. He made his way back to his beloved Eden Park terraces for the final against Natal in 1996 and now attends Blues matches with his son Liam.
"My boy is now nine years old and he is following the same path I did with my father. We are up in the West Stand of Eden Park for most Blues games.
"The thing I love about Eden Park is that it creates an atmosphere where my boy wants to go along. It's not because his dad is a mad Blues supporter, it's because he wants to be there.
"They create a great atmosphere for families. Especially around the start of the year when they have their fan days. It's not just signing autographs; the players genuinely interact with the kids."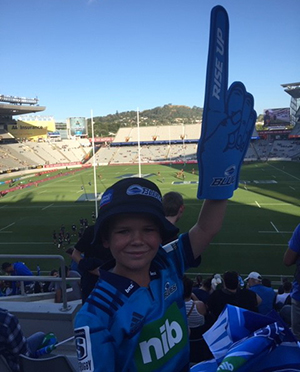 A move from 7.35pm kick offs to 7.05pm kick offs will have a positive impact on families says Mark.
"The 7pm start is genius. From a family point of view it is a real no-brainer. You can be home and out of the park by 9.15-9.30pm so that's great for any kid under the age of 12-years-old or so"
After 25 years of supporting the Blues through thick and thin, Mark has no hesitation in backing his side again in 2020.
"Two words: Beauden Barrett. We've needed that world class pivot for a long time so there's a bit of confidence with Beauden coming on board," Mark said.
Grab your Blues 2020 season memberships here.