They are also values that define Michael Watson and his life-long support of both clubs.
Born in Hamilton, Watson was always destined to be a part of the Melville whanau and an unwavering supporter of the Chiefs.
"I played all my junior boys rugby from five-years-old with the Melville Rugby Club," Watson said. "My uncles played there and my mum was the manager of my team. It's always been our family club."
Watson describes Melville as a having the feel of a 'country club in the city' and says many parallels can be drawn between Melville and the Chiefs, particularly around the importance of whanau.
"Whanau and community are huge for us. We have a lot of players that come to Melville from high school or from out of the region because of that family aspect.
"There's a lot of pride when players from the club go onto make the Chiefs or other Super Rugby squads. They will forever be part of the Melville family."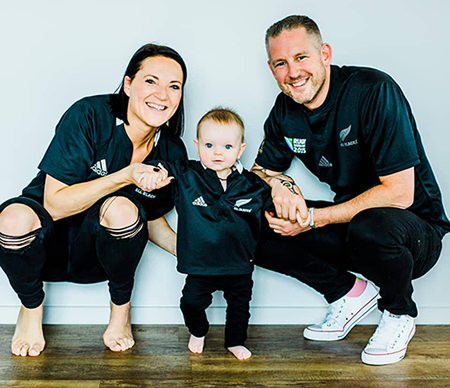 Although Watson has now lived in Wellington for more than half his life, his passion for Melville and the Chiefs has only grown stronger. He travels back regularly throughout the club season to watch Melville and support the Chiefs and talks proudly about successes of the club both on and off the field.
"There is a strong Chiefs supporting contingent from within the club. After the game on the Saturday afternoon, a big group of supporters and players head down to FMG Stadium Waikato. It's a big day of rugby, supporting Melville and then down to watch the Chiefs play."
Supporting the Chiefs was a slow burn for the fans but made worthwhile when the club won their first title in 2012 says Watson.
"It was unreal to win in 2012 and even better to go back-to-back. To be at home and see that crowd was something special. The Chiefs had a slow start to Super Rugby but then Dave Rennie came on board and developed a strong squad. We had Sonny Bill Williams there at the time and Liam Messam was a great leader."
Watson now has a one-year-old son named Jack and cannot wait to get him along to the rugby when he is a little older.
"I've already spoken to his godfather who is a Welsh-Hurricanes fan and a season member at the Hurricanes. We are all going to head along to a game this season."
An earlier kick off time of 7.05pm instead of 7.35pm is also something that will appeal to families says Watson.
"To be able to have it at a family friendly time is awesome. That 30 minutes earlier will help. It's a great move by unions and broadcasters, very helpful from a family point of view."
As for the Chiefs chances in 2020, Watson is optimistic.
"I'm really excited with Mr Gatland returning and bringing his approach and style. If you read what's been written about his approach to player management and engagement with the fans and community, I think he will fit in well.
"He will bring a hard edge and some new thinking to the club. If you are not excited about it, you are supporting the wrong team," Watson said.
Get your Chiefs season memberships here.