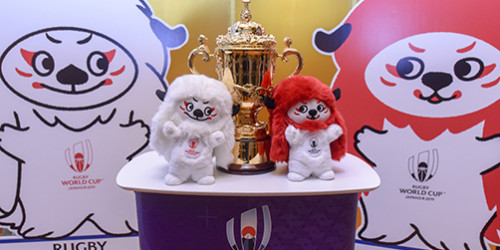 Unlikely Heroes
In 2011 it was Stephen Donald who returned from a white-baiting trip to become New Zealand's hero. Will there be a similar story in 2019?
Nail biters
We hope your finger nails have grown back from the Cricket World Cup, because they are going to take a battering once again from September 20 – November 2.
---
QUICK TAP: ALL BLACKS SQUAD NAMED FOR BLEDISLOE TESTS
---
Try Time
There were 271 tries scored across 96 matches at Rugby World Cup 2015. With warm and dry conditions expected in Japan, you can look forward to even more try scorning action in 2019.
Colourful Fans
We hope that Japanese dollar shops have stocked up on face paint and flags.
Trophy lift moment
Who doesn't love a good trophy lift and team song?

Wonderful whistle blowers
Twelve referees have been selected to officiate at the tournament and we wish them all good luck.
Gold medal giveaways
Will another lucky punter end up with a player's gold medal in 2019?
World class Stadia
From the space-age Sapporo Dome to the towering International Stadium in Yokohama, the tournament's 12 venues will all be equally impressive.
Spider Cam
You know they always bring out the best camera angles for the Rugby World Cup. #ProductionValues
Opening match
They may not be superpowers of rugby, but the opening clash between Japan and Russia is poised to set the tournament alight.

Nigel Owens swansong
At 47-years-old, the tournament will be a World Cup swansong for legendary referee Nigel Owens – the man who controlled the 2015 final.
Legends return
Wondering whatever happened to Will Carling, Sean Fitzpatrick or George Gregan? Don't fear, you are bound to see them and plenty of other legends on TV or online during the tournament.
Social media watch
Take 20 teams from around the world, place them in Japan for six weeks, add in plenty of downtime and you are sure to get some social media gold. Start following all your favourite players and teams now!
24/7 Rugby chat
The water cooler has never been more fun.
Magnificent minnows
Everyone loves an underdog story. Go the tier two nations!
Awesome anthems
Because anthems are sung with just a little more pride and gusto at the Rugby World Cup.
Sparkling new jerseys
Who's looking forward to seeing the three Rugby World Cup trophy emblems on the All Blacks sleeve?
Press Conferences never been so much fun
From post-match barbs to friendly banter between teammates, you can be guaranteed some entertainment during the World Cup press conferences.
Bronze medal match
Just because you haven't had your fill of rugby, here is a bonus match!
Classic commentary
Keith Quinn's booming voice was immortalised in 1995 and you know another commentator will make their mark in 2019.
Good luck messages
Good luck trying to escape them.

Scenic and bustling Japan
From Mt Fuji to Shibuya Crossing, expect to see plenty of Japan's scenic landscapes and bustling cities during the tournament.
Konichiwa
Japanese is a beautiful language and we can't wait to hear more of it during the tournament.
Sensational Upsets
From Samoa over Wales in 1991, to Tonga beating France in 2011 and Japan toppling South Africa in 2015, the Rugby World Cup always brings plenty of upsets and surprises.
Sportsmanship
We see the best of teams at Rugby World Cups, and we look forward to more moments like the one in 2015 when Sonny Bill Williams consoled opponent Jesse Kriel after their gruelling semifinal clash.
Ren-G
Ren-G are the twin mascots of the 2019 Rugby World Cup. They look, well, Japanese. We can't wait to see Ren-G in action.

Celeb appearances
From the British Royal Family to movie stars, musicians and famous politicians, keep your eyes peeled to see who pops up in the stands across the tournament.
World in Union on repeat
Can't wait to hear this song on repeat for the entire tournament.

New stars
No one had really heard of Jonah Lomu before the 1995 tournament and look what happened.
Pre-match challenges
From the Fijian Cibi and the Tongan Sipi Tau to the Maori Haka and Samoan Siva Tau, expect to get chills when any of these nations play.
Japanese culture on show
Sumo, samurai, manga, sushi, kimono. Just a few things that make up the wonderful culture and tradition of Japan. Get ready to see and experience more of the culture than ever before during the tournament.

RWC Villain
Every great story has a villain. Who will it be in Japan?
Legendary rivalries
In pool play alone we will see some of the world's great rivalries ignite when the All Blacks take on South Africa, England face France and Wales square off with Scotland. Come the knockout phase we will see plenty more, with even more at stake.
Merch, merch, merch
If there was ever a time to get decked out from head to toe in the colours of your team, it is the Rugby World Cup.
Mouthguard controversies
It's not a World Cup without another mouth guard controversy.
Slo-mos
From players walking out of the tunnel to TMO replays, get ready for a slo-mo avalanche during the tournament
Statchat
Every rugby fan loves a good statistic, and here is a good one for you: The All Blacks have scored the most tries in Rugby World Cup history with 311. Australia are second on the list with 209 tries.

Need for speed
The most tries scored in one tournament by an individual is eight by Jonah Lomu (1995), Bryan Habana (2007) and Julian Savea (2015). There will be plenty of interest to see if any of the flying wings on display in the competition can break this record.
Haircuts and fashion trends
Call it boredom or just having fun, but we are bound to see some unusual hair styles or facial hair arrangements on display during the tournament.
Respect
While rugby is a sport built on respect and humility, that will be heightened in Japan where those traits and ingrained in the way of life.
Curtain calls
It's only natural that World Cups tend to herald the end of many great careers. Make sure you tune in to see some of the world's best players grace the international stage for the final time.
Drop goals
Stransky, Wilkinson, Carter. Who will pot a famous drop goal this time around?

Player of the tournament
An established star or a new name? Who will take the world by storm in Japan?

Everyone's an expert
From roving reporters and expert commentators to legendary players and next-door neighbours, everyone will have an opinion during the tournament.

?? WORLD CUP WATCH | Don't underestimate hosts Japan! They've been building for three years and training as a team for six months. Hear from assistant coach Tony Brown on the Breakdown.

Watch @SkySportNZ's full episode of the Breakdown ???? https://t.co/RJgi3YGR3o#RWC2019 pic.twitter.com/iezt6NznV0— All Blacks (@AllBlacks) July 31, 2019
Diet on hold
With many hours of rugby to catch up on, it's to be expected that your healthy eating habits may take a dive during the tournament. Embrace the snack zone and stock the house with chips, lollies, ice cream, fizzy and anything that will get you through an epic six weeks of rugby watching.
Crowds in full voice
From Waltzing Matilda to Swing Low Sweet Chariot, you will be able to feel the parochialism from your couch.


Famous words
George Gregan's 'four more years' call from the 2003 Rugby World Cup still haunts All Blacks fans. Will there be another famous on-field quote in 2019?
Opening ceremony
What does Japan have up it's sleeve for the opening ceremony? Fireworks are a given but what else? Tune in to find out!
Haka Bomb
We've seen more and more fans jump into the background of photos and live TV crosses to cheekily give their own haka pose. Will the 'Haka Bomb' phenomena intensify in Japan?
#BACKBLACK
The #BACKBLACK movement is sweeping New Zealand and will only get stronger during the Rugby World Cup.
Air All Blacks... it's got a nice ring to it ?? #CrazyAboutRugby #AirNZSafetyVideo pic.twitter.com/fHsVFKEtN4— Air New Zealand?? (@FlyAirNZ) July 31, 2019