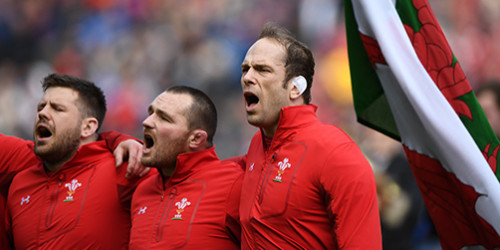 "We played Scotland in Edinburgh and 20,000 Welsh fans travelled to the city without a ticket to the game. They just wanted to be in the city on game day."
Sir John Kirwan calls that tribalism and reckons it's what makes New Zealand's provincial game so strong but is harder to replicate in Super Rugby.
---
When it kicked off in 1996 the idea of Super Rugby was that you played for your region, returning to your province after the season finished.

That way there was a grassroots connection from the amateur game through to the professional one that would bond fans to both.

That connection is more tenuous now as players can be contracted to a club from anywhere.

There are no such concerns in the Six Nations where the passion and interest from fans is impressive and the competition itself is delivering with a climatic final round.

Ireland's 26-14 bonus point win against France means they have 14 points, England 15 and Wales 16 - and they can all win the tournament in what shapes as a thrilling weekend ahead.

Wales host Ireland who are bidding for a grand slam while England are at home to Scotland. That game comes after the Wales v Ireland match so Eddie Jones' men will know if they are still in with a shot.

They will be Ireland supporters for just a few hours because they need Ireland to win to keep their hopes alive.

In a quirk, it's possible with the bonus points that Wales and England could win but England, who lost to Wales, would finish on top.

So the Six Nations has a rule that any team that finishes unbeaten gets three extra points to ensure they're crowned champion.
Too often the Rugby Championship fails to deliver such a climax as the All Blacks tend to have it wrapped up before they've played a game outside Australia and New Zealand.

It's one of the challenges World Rugby faces in its attempts to come up with a global competition.
STORY | Coming from obscurity, Karl Tu'inukuafe has been named as one of New Zealand's five players of the year by the esteemed New Zealand Rugby Almanack.

READ ???? https://t.co/wunnPOQAF8 pic.twitter.com/mfwnAk0LFb— All Blacks (@AllBlacks) March 9, 2019
As All Blacks skipper Kieran Read said, games have to be meaningful and the integrity of the competition needs to be maintained.

While the All Blacks dominate the Rugby Championship, there is a level of uncertainty around the results helped by Argentina's improved play, and New Zealand's odd loss to Australia and South Africa.

The flaw in the overall integrity of the Six Nations is Italy, whose 57-14 thrashing by England was their 21st consecutive Six Nations defeat.

That's embarrassing and it's easy to see why many think there should be promotion/relegation in the tournament.

It's also just as easy to see why those in the Six Nations don't want it to happen - money and staying in a competition that provides a decent level of footy.

Promotion/relegation is not always the solution either as clubs can spend a fortune trying to get up only for them to last a year and then drop back down.
That yo-yo effect is common across the codes but it does, at least, provide an opportunity to sit at the big table, a pathway to play with the big boys and girls.

What will be interesting is how many teams move up and down in the global competition. In 12-strong divisions I reckon at least two should move up and down, automatically, without a playoff game.

My greatest concern about the proposed global competition is that it looks like the World Cup - only played every year.

That can't be said of the Six Nations. Instead this year's competition is adding to the intrigue ahead of the tournament in Japan as Ireland, England and Wales all shape as genuine contenders.

One will arrive in Tokyo as Six Nations champions (and possibly grand slam winners too).

We will find out after a climatic weekend that is sure to see some Ireland fans travel to Cardiff without a ticket to the Test. Being there for the after party will be enough.

Is this the greatest @rugbyworldcup try of all time? pic.twitter.com/FgYuSuaZPp— All Blacks (@AllBlacks) March 10, 2019