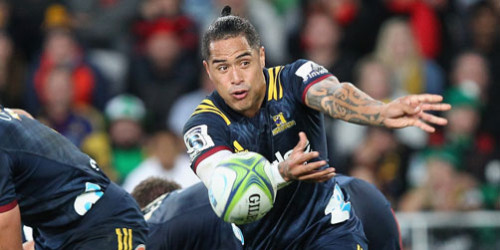 Which all points to another top-class clash within a clash when their two sides meet in another Investec Super Rugby derby, this time at Westpac Stadium in Wellingon on Saturday.
"You love playing against your mates, and he's a very hard guy to play against," Smith said.
But concentrating too much on one-on-one confrontations would involve taking an eye off the team requirement and that was what Smith would be focusing on.
"You've always got to keep an eye on him, he's a bit of a sniper with the positive running lines plus his positioning over the ball is very good too," he said.
An extra factor would be Perenara playing his 100th game for his side.
What made him such a key opponent was the fact he was one of the fittest, fastest and strongest players in the All Blacks, and he was a halfback.
"We make each other better, we play the game differently and we have our own strengths and we just play to those and I guess if we play in other teams it balances it out really nicely," he said.
Smith, who now finds himself among the three most experienced Highlanders, along with Ben Smith and Alex Ainley, said he had thoroughly enjoyed being with the side since 2011.
This year's side had also benefited from coach Aaron Mauger being with them at the end of last season to get a feel for the environment.
"Brownie [Tony Brown] was really good I heard in unloading work-ons and Azza [Mauger] has added what he wanted. Azza has helped us grow another leg and as you can tell it's going really well but it is going to be a really tough game this weekend against the Hurricanes.
"The Crusaders game was really tough but you saw what the Hurricanes did to the Crusaders a couple of weeks ago so we're going to have to raise our game a bit more if we want to get near the 'Canes," he said.
Hooker Liam Coltman said the players had stuck to their processes well against the Crusaders to secure the win and while the pack had gone well they had things they wanted to improve on against the Hurricanes.
He said having been off for six months last year had its good points – he was able to enjoy the arrival of his first child while missing out on all the contact work meant once recovered he was feeling physically refreshed.
"It's come a long way, the ankle is starting to loosen up, the scar tissue is starting to break down," he said.
But having been through such an injury he said was concentrating on enjoying being back and involved and having some fun and doing well for the Highlanders.