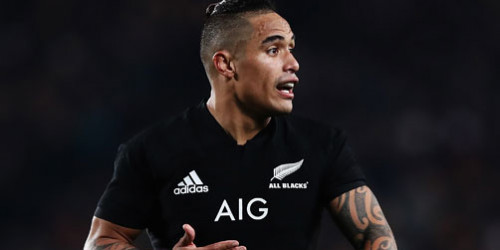 New Zealand's 52-11 win saw the side's attacking power unleashed with Smith playing a key role in accurate, and quick, distribution to allow the backline time and space to operate.
He said there was nothing like being back in the All Blacks' environment and to play in front of a full stadium was an amazing feeling.
"You can't beat that, running out and people screaming in a stadium full of black. It's just a special feeling."
It had been a good week of preparation and the second had shown that when the players do their roles while keeping it simple and trusting each other, they could be really good.
"That first half showed that it's not as easy as Super Rugby in the sense that you're going to get a line break and score tries. The French 'd' was outstanding in the first 40 and put us under pressure a lot at the breakdown and one little mistake, one little flick pass which you could probably throw in Super Rugby they can pick up and they score so you just can't do that for them and they've got some dangerous players if you let them play," he said.
It hadn't been a comfortable feeling turning around 8-11 down at the break but coach Steve Hansen told him to keep playing his game. He felt the quick tap he wanted to take just before halftime could have changed the momentum of the game. The referee wouldn't allow him to do it as he said he wasn't as fast as Smith so he would have to wait for him to signal the mark to play the ball.
"This is Test match rugby and you have got to be a bit more patient than that and maybe three points there to draw the game up but as Steve said to me at halftime, if I feel like it's on keep trusting that.
"Our forwards, in the second half, gave us the platform to attack from and their set piece was outstanding, stealing lineout ball and some of our tries coming off mauls and broken play was brilliant."
They had been excited in the first half with the turnover ball they were winning and were just trying to fling the ball to take advantage of mismatches.
But in Test match rugby it was still a case of earning the right to run the ball. By kicking more ball in the second half they were able to utilise the abilities of their ball winners in the air and not allow France to run the ball back at them.
"The French 'd' is really good so for us if there is no gaps in the front there's got to be gaps somewhere, out on the wing or behind or somewhere so we've just got to try to find them. Maybe in that first half we weren't looking, we were just trying to do everything as hard as we could and it wasn't working."
Bench players second five-eighths Ngani Laumape and Damian McKenzie thrived when joining the action for the final quarter. Both scored tries with McKenzie playing a leading hand in Laumape's bullocking run to get over the line.
Laumape said: "It was awesome to get out there. The boys who started off the game did all the hard work. It was satisfying."
Laumape said the odds had always been stacked against him growing up, he was a little shorter than many of his opponents, so the sort of bump that saw off French fullback Maxime Medard's tackle attempt was typical of his play.
"My parents always told me to run hard, and tackle hard and when I'm in those moments I will back myself in those situations."
When he saw the opportunity to score he saw TJ Perenara in his wider vision and he could possibly have passed to him.
"He [Perenara] always tells me to back myself and to pull the trigger, so when I was in that moment it was time for me to do what I do best.
"Once the team got announced my mindset just changed and once I get on I want to bring a lot of energy and make a game-changing play but Damian did all the work and I just happened to be there at the right time," he said.
He was unable to explain the collision success he had. He credited his coaches for allowing him to develop the skill but explaining it was another matter.
"Mentally I just back myself."
McKenzie said their introduction had been timely.
"The boys were starting to get on a wee roll and I managed to get on the end of some good play. It was awesome, it was pretty quick when we got out there and to score a few late tries was good as well. We were looking for space and managed to find it a few times as well and it was pretty quick, like it always is," he said.
Having been at first five-eighths for the Chiefs this year he had no trouble adapting to fullback.
"I'm happy wherever I'm needed or wherever I'm called on, tonight it was 15 and it was good to get back there, there was a bit more time and I really enjoyed it."
Coming on after 60 minutes he was looking to bring some energy and a bit of spark off the bench and to just try and play his game.
"A few things fell my way at times so I guess it was a licence to play within the structures but also have a go as well," he said.
The final say belonged to his Chiefs teammate, prop Karl Tu'inukuafe who made such a terrific impact at his first scrum. Having come from nowhere he had the country sitting up and taking notice, coach Steve Hansen comparing him physically to Keith Murdoch.
Running onto the field had its own impact on him.
"It was a really unreal feeling, I've never played in front of a crowd like that before. I was really happy.
"During the warm-up I was a bit nervous and then during the anthem and after the haka I was able to bring myself back down. When it was sung in Maori I was just trying to hold it back. I was just thinking about my grandparents and wishing they were there. It was a bit tight at the start but they did really good on attack and I guess the boys did well to come back in the second half."
And at that first scrum he was just thinking 'I'll see how we go'. "As soon as I felt pressure from behind I knew where I had to put it so big ups to those guys behind us."
The speed and the physicality had been a significant level up from Super Rugby for him.