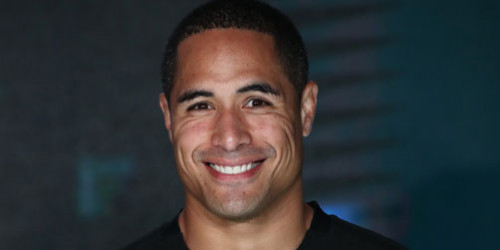 The 82-Test, 30-year-old has been a key pivot in the development of the All Blacks' game and is excited at the challenge ahead for the world championship.
---
QUICK TAP: SONNY BILL WILLIAMS KEEPS CALM IN THE FACE OF PRESSURE
---
Japan offered different challenges to other venues and experience deliberately undertaken by the All Blacks in recent seasons had shown it was very warm at the time of the year the World Cup would be played. Last year when they played Australia in late-October, early November, around the same time as the final stages of the World Cup, it had been around 18 degrees with a slight breeze.
"It was hot and sweaty and the ball was dry," he said, adding it had been nice to play in the afternoon.
The All Blacks' jersey released on Monday ahead of the Cup was deliberately fashioned for the conditions. Smith said it was very light compared to past ones, but still heavy duty in its strength.
"It is comfy and you can really feel the effort that has gone into and the science behind it and it feels like it is going to do more than it actually can. If feels like that when you put it on," he said.
Smith said the talk coming out of South Africa about trying to repeat their Investec Rugby Championship success when playing the All Blacks again in Wellington was interesting but it would be no different for the All Blacks because they wanted to do well in every game.
However, they took plenty from the loss last year.
"We learnt a lot of lessons from Wellington last year. It was a good little upper cut but it was a tight game, it wasn't like we blew it but we definitely had some moments in that game we wish we could take back.
"Defensively, we learnt a lot and our ability to hold the ball when we went back and played them in Pretoria was great. That was a hell of a match over there and we just got home but you need those games leading into World Cups. You need the hard ones.

?? Here's a close up look at the @adidas All Blacks @rugbyworldcup jersey.

SHOP NOW ???? https://t.co/68JujEuKje pic.twitter.com/f6tjXAlsMl— All Blacks (@AllBlacks) June 30, 2019
"Every game against the old foe is great. I'll be honest, I love playing Australia but South Africa is just that ultimate test of the size, strength, they never give up. It's just always a big game. Whenever you play any Sanzaar team, Argentina, Australia and South Africa it's 80-plus [minutes] of hard out," he said.
Now that the Super Rugby season was behind most of the players more attention could be directed to the year's biggest prize. Smith never hid the fact that the World Cup was on his mind but because it was so far distant during the Super campaign it wasn't possible to let it control the 'now'.
That was clear when in Auckland on Monday for the jersey launch at 7am. Smith had already been out for his daily run at 4.30am because that was the extra commitment involved in preparing for a World Cup.
Trainer Nic Gill had sent out his fitness requirements to the players a week earlier and it was a timely reminder the players were heading towards another, higher, level.
At the same time, a player who has had speed at the base of his game, Smith, as he said, couldn't counter the clock but he was able to train a lot smarter with age.
"I do a lot more bikes, off-feet conditioning, so that when I'm on the field I don't have a sore back or sore joints. My lungs have still been hit, I can't go for big road runs like I used to, my knees don't handle it any more. You just train smarter. I do a lot more prehab, rehab, I stretch a lot now. I'm a big fan of ice baths and spas – all the little things that go around it so that when you go to training you can train at a higher level.
"When you're younger you can just get up and go, no stretching. I could just have a little wiggle and go. I could run eight or nine kilometres but now I've got to get up, have a stretch, prep, do my calves, make sure something doesn't go pop. But I feel like my motivation to train now, my drive is constant. Every day there is something, there's a little bit of cardio factor, there's a bit of stretching, a little pliability.
"That's why I think the longevity of players now is not because they play the same or live the same. They change their whole life so from how I was in 2012 to how I train now it's vast. But I thought I was professional then.
"We're lucky, this is our work and our work is our body. My body to me, the stretching, the getting up early, is a part of it. You've got to get your water in, your right amount of food, training this afternoon you need to eat this at lunch, stretch before it, wear compression, make sure I get 10 hours sleep. It's a lifestyle and I love it," he said.

?? BOLTERS! Ahead of the naming of the first #AllBlacks squad of the year tonight, we take a look at 10 great All Blacks bolters of the past.

READ ???? https://t.co/lQ4WcjAcMQ pic.twitter.com/bqlHjuV4pz— All Blacks (@AllBlacks) July 1, 2019
Into what is likely to be his second campaign, the main difference to his first in 2015 is the fact he has gained membership of the leadership group.
"We've had a lot more meetings around what we plan to do, if in the squad. Last time I was just playing. I was on 30-40 Tests but I wasn't in the leadership group, I wasn't part of the plan or a part of what we want to do as a team, as a culture, for our environment or what we think the hiccups could be or what we think the hard parts will be. It's really cool, really fascinating then you've got to turn that off and go back and play for the Highlanders.
"It was a bummer dropping out of Super Rugby early but it provided two weeks to get my body ready, two weeks to get some load through the legs and spend some time with family which is good," he said.
Looking at the Super Rugby season, Smith said he felt the abandonment of their home game with the Crusaders had been crucial, and disappointing, for the Highlanders. They went into that game with two wins, a bye and a loss and the Crusaders were going to be a measure of where they were.
"With the horrific events that happened it was fair that we should not have played but as our season developed we needed that game. We probably needed it to learn what we needed to be. We would have got that upper cut, or we would have won and seen what sort of team we could have been.
"We could have got the 'we're a way off now we need to pull finger' or 'we're good' or 'we're the nearly team' and in the end we were just the nearly team all year.
"We were close, played good patches but when you play a team like the Crusaders early in the year that's our biggest game. Playing them in Dunedin we can run them round and see where we're at and we didn't get that game. Our crowd love that game and we get up for that. We go pretty good against them in Dunedin.
"As we know it is pretty hard to beat them in Christchurch whatever they're up to now, 29 in a row. I thought we had a good shot at them last week. We were 13-10 at halftime. Jackson Hemopo got denied a try five minutes in and if he had got that it could have been big for us. There's no shoulda, couldas or wouldas in rugby but what could have been eh?
"It was a tough year but a good year. I'm looking at it positively, I'm hanging around so I'm really excited that we've blooded some new talent, we've got some awesome young fellows coming through.
"[First five-eighths] Josh Ioane's development this year has been awesome, unreal," he said.
??REVEALED! @adidas All Blacks Rugby World Cup jersey.

READ ???? https://t.co/wk1JAWL6vl pic.twitter.com/PIfdZtHsTi— All Blacks (@AllBlacks) June 30, 2019