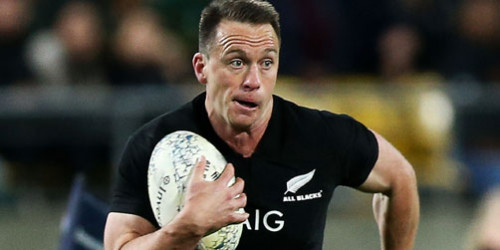 Fullback Ben Smith said Argentina would have taken things away from their first meeting in Nelson and the All Blacks would have to be prepared to adapt to any changes Argentina implemented on the field.
---
"That's the thing with the Rugby Championship, teams go away, they get better, they see what teams are doing and they adjust, so we're going to have to do the same this weekend," he said.
Specifically they needed to watch the control first five-eighths Nicolas Sanchez had in directing the side. He had been 'on fire' in recent weeks for Argentina, Smith said and it would be important not to give him too many opportunities.
"They've got speed and the ability to beat the first defender right across the park," he said.
Defending Sanchez it would be important to reduce the amount of time and space he had to make decisions and No.8 Luke Whitelock said the defenders needed to be connected.
That would also test the communication skills of the side which had been exposed by South Africa in their loss in Wellington.
Smith said discussion among the leadership group in the wake of the loss had focused on understanding "what was needed when and giving our key drivers good comms [communications] from the outside in so we can put the best account of ourselves out there.
"I think at times probably we didn't take quite the right options so [it's been about] making sure, that going back over the footage we can look at how we can get better.
"As a team we want to improve and we want to know the situations and where we can get better," he said.

ICYMI | Here is your #AllBlacks 23 to take on Argentina in Buenos Aires this weekend.

FULL STORY ?? https://t.co/KluppgZ6Dg#ARGvNZL pic.twitter.com/QNS66QxueD— All Blacks (@AllBlacks) September 27, 2018
Asked by Argentine journalists how the All Blacks coped with the rare experience of a loss, Smith said they had been disappointed with how they performed against South Africa and the main thing about the loss was they let themselves down so as a team they were keen to make a better account of themselves at the weekend.
"It's easy to be motivated because we feel like we can get big improvements in our game and as players we're excited to get out there and show we're a better team on Saturday," he said.
Whitelock, who is getting another start in the absence of captain Kieran Read who did not travel to Argentina, said having the opportunity for game time with the All Blacks had resulted in him working even more on playing with and without the ball. On attack that meant improved ball skills and handling work and speed while on defence it was getting his dominant collisions up.
Both players have witnessed flanker Shannon Frizell's rise from their Highlanders Super Rugby side to the international game. Smith said Frizell had always backed his ability but getting out and being able to show his wares in Nelson at Test level had been a boost for him.
"He's got a pretty unique skill set and it's going to be exciting to see him get another crack on Saturday because he enjoys these occasions," he said.
Whitelock said he worked a lot with Frizell in the loose forwards combination and the biggest thing about him was he was always looking to learn and he asked a lot of questions.
"He's obviously a great athlete and when he's clear with what he has to do he's got full confidence that he can just go out there and express himself and he obviously did that last time around in Nelson," he said.
With @SonnyBWilliams back in the All Blacks number 1?2? jersey, catch up with him and the team as preparation for the clash with Argentina continues. ??#ARGvNZL pic.twitter.com/QmaIMPshnh— All Blacks (@AllBlacks) September 27, 2018