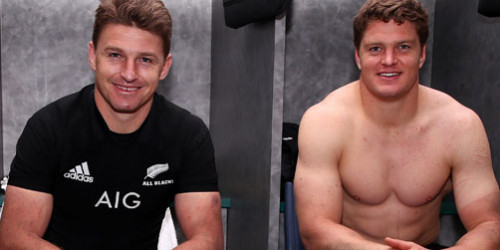 For Springbok coach Rassie Erasmus it was a case of contemplating what the future might hold for him if a similar scoreline was registered.
---
QUICK TAP: ENVY OF ALL BLACKS SHOULD GIVE WAY TO AWE - BARNES
---
While the All Blacks had only positive memories, backed by recall of just what it took physically to achieve that result.
Erasmus said in Wellington on Monday another heavy loss would likely spell the end of his brief tenure as coach.
"Probably just for me to survive it's fairly important, but that's beside the point," he said.
"If we can beat the All Blacks here, everybody will think we have a realistic chance of winning the World Cup next year. People will say there's growth."
At the least Erasmus wanted to see an improvement from his side that has slipped to seventh in the world.
"This is the ultimate test to see where we are. Did we actually improve in the last six matches or are we getting worse?" he said.
"If I'm here or not, I want the next coach who goes to the World Cup to have a squad who's representative of South Africa, who's got enough experienced, who's gone through tough times in New Zealand and Australia," he said.
Meanwhile, the All Blacks were aware that the historic rivalry with South Africa leant another factor to their Tests.
First five-eighths Beauden Barrett said he had positive memories of last year's 57-0 win over the Springboks at Albany. He said it was probably the best preparation the side had for a long time. He recalled the excitement they got from lock Brodie Retallick's early try.
But they were aware it was always going to be a big contest and while they had been well ahead on the scoreboard at halftime they felt they had to work for everything and it hadn't come easily.
The difference between the sides had been about taking opportunities.
"We know we have to turn up with the right mentality, we know they'll be coming every time we play them so we just have to be ready to take our opportunities because in Test matches you don't get many," he said.
"We know how desperate they'll be this week so we have to not just match them but be hungrier than them," he said.
Looking at prospective rivals at first five-eighths, Barrett said Elton Jantjies was a skilful player, a left-footer who varied his depth while Handre Pollard like to run with the ball and was flat at the line and was a good ball carrier and whoever played they were both very good options.
Scott Barrett said locks Eben Etzebeth and Franco Mostert were a world-class combination. Etzebeth had been out with injury but would be looking to play some positive rugby. He was a mountain of a man who was typically, a big, hard South African while Mostert had a big engine on him and was a good lineout forward and had been a big driver for the Lions in the last three years.
While South Africa might be having issues with their success at the moment, the All Blacks would not lower their expectations of their opponents.
"Every South African team is going to turn up. They're going to be physical, they're going to want to win those battles, they're definitely going to come here and play," he said.

The #AllBlacks keeping the 200+ players happy at the @FlyAirNZ Ripper Rugby Championship in Wellington ???? pic.twitter.com/o07Xd6KXqP— All Blacks (@AllBlacks) September 10, 2018