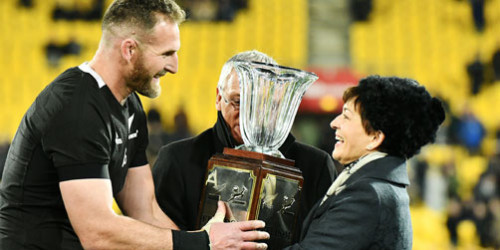 The first game, in the Investec Rugby Championship, will be played in Perth in a fortnight with the return game in Auckland a week later.
After Saturday's 16-16 draw in with South Africa in Wellington, the Springboks head into the last round of the truncated competition with a one-point lead as a result of the bonus point they scored against Australia last week.
All Blacks coach Steve Hansen said in the post-match press conference in Wellington on Saturday that having won plenty of Test matches in the last moments in the past the All Blacks had to take some of their own medicine when South Africa manufactured a try to draw the game.
"We've chosen over the last two weeks to play two different sides, haven't had a lot of preparation time so we knew that at times with the new stuff we're introducing that we were going to be a little off and we were.
"But there's enough signs there to say if we keep working away, get our timing better, get our execution better then we're going to be able to hurt some teams. So we're not going to panic, we'll take a big deep breath and keep moving," he said.
Handling issues had emerged under pressure and that had to do with their own foot speed into contact and that's the nature of the game.
"If you look back at history, particularly over our time anyway, the June series' are always rusty. We scrambled away, and scrambled away and we don't see great rugby and this is our June series," he said.
The Championship had always been the third priority of the season, he said.
"We've had to find some things out, and we're finding them out, which is great and we're reasonably happy, not so much with the performance but we're happy with what we're seeing and where we know we can go and I think that's the important thing," he said.
Captain and No.8 Kieran Read said the result was one of mixed feelings. The All Blacks didn't go out to draw or lose, it was about winning and the team was a little down.
It was always better to come back to draw than it was to concede a win and that was reflected in the post-game feelings of the teams.
"Basically we're about our performance and how we can improve that at this stage of the year and there'll be plenty of things we can look at and positives to take from it," he said.
Hansen said lock Brodie Retallick had dislocated his shoulder and at the time of the press conference after the game they were waiting to see if there was a fracture involved with that.
Second five-eighths Sonny Bill Williams had achieved the coaches' demand that he stay on the field and he had managed to do that.
"A guy that hasn't played very much rugby at all is going to be rusty so I think we can get too judgemental about his rugby performance but the fact his body held together was encouraging," he said.
Assistant coach Ian Foster said there were some nice features to the use of Richie Mo'unga at first five-eighths and Beauden Barrett at fullback but in the first half there had been the sort of look they had seen in the Argentina Test when players weren't getting into the shape they wanted or making the decisions.
"I thought there were some nice patches in the third and fourth quarters that Richie and Beaudy got a few things organised so it's a work in progress," he said.