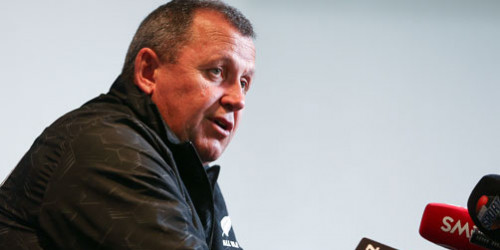 Taking on South Africa in Wellington in their Investec Rugby Championship Test on Saturday was typical because playing the Springboks always involved more elements of competition based on the historic rivalry between the sides.
---
The All Blacks know that whenever they face South Africa, whatever their recent record, they are going to face a physical confrontation. Nothing has ever changed in that regard since contact began in 1919.
Assistant coach Ian Foster said in his experience there had never been an easy Test against South Africa and the contests had always been 100 percent physical and brutal.
The All Blacks were aware of the hunger the South Africans would bring to the game. They had seen them beat a good England team in their June series, and they were aware they had lost two Tests on the road.
"We've got to prepare to play a team that is going to turn up and play the best game of the year. We always look at 'what-ifs' and how they're going about it.
Foster said he had observed over the last seven or eight years that South Africa had started to trust a more 15-man game and the two countries had played some classic, and very exciting, games.
"We expect that but it is going to be based on a collision and a toughness, you have got to win that battle in any Test but you certainly have to win it this week.

It's always a massive test against the Springboks and the team can't wait to play in front of a HUGE crowd in Wellington this weekend.
Don't miss out seeing the #AllBlacks in New Zealand for the last time in 2018. Limited tickets are still available ?? https://t.co/WTcp2Q9Jqo pic.twitter.com/9S8jxBac0l— All Blacks (@AllBlacks) September 11, 2018
They were also working on systems, such as seen from first five-eighths Beauden Barrett against Australia in Auckland when appearing in different positions on the field to capitalise on his specific qualities.
But at the same time they were aware teams would be working hard to reduce the number of opportunities they received and attempting to find a different way to defend it.
News was also better on the injury front. Sonny Bill Williams' scan was clear and he was ready to be considered again, although he had a slight setback when illness prevented him training on Tuesday.
Lock Brodie Retallick still hadn't been scanned to assess his shoulder injury.
Flanker Sam Cane and second five-eighths Ryan Crotty were fully recovered and in the mix for selection.
"We had a great week in Nelson and really well supported by the community there and you felt it, you felt a lot of excitement there and it would be nice to come here and play the way we really want to play before we head off overseas," he said.