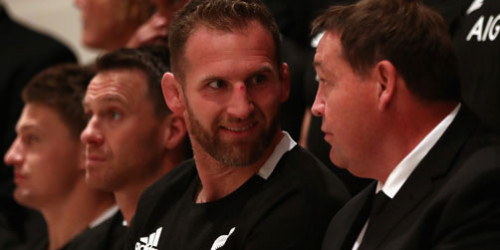 He believes they could be trying to pull the wool over people's eyes.
Evans told The Rugby Paper that the All Blacks were all about the Rugby World Cup and could be trying new systems in games against England, Ireland and Italy over the next three weekends.
---
"It has been a big season for the All Blacks. I sit back and watch them and kind of try and work out what they are doing. People will look at some of the results and say they haven't played that well but I look at them and say have they been trying things?
"There was a game when they just didn't kick. New Zealand are always in the top three in terms of kicks in play so they kick a lot more than you think.
"Is this just the way the game is going or are they trying to push themselves to a threshold just so they can see what they can do going into the World Cup?" he asked.
"Maybe they are going to come to a game when they can't kick at all, or they don't want to kick, how far can they push that with ball in hand before they get to the tipping point?
"In the first game against Australia they looked all over the place so are they trying different set-ups? This is the time to do it and get it sorted out," he said.
Evans said England and Ireland were probably two of the best defensive international teams who were good kicking teams, while also among the best wet weather teams. With that in mind he said it would be interesting to see if the All Blacks had different set-ups to deal with those factors.

Barrett ? Bridge ?? Proctor = first test try ??

FULL HIGHLIGHTS ?? https://t.co/PVkxggNzE6#JAPvNZL pic.twitter.com/kqsEpAV1B2— All Blacks (@AllBlacks) November 4, 2018
Former British & Irish Lions and England centre Jeremy Guscott said: "Many people think England will be walloped by the All Blacks next week – and they will be if they start like they did against South Africa [on Saturday] – but I would be incredibly surprised if England cannot begin next week's game as they finished this one.
"The England performance could have been better but it's a big win to kick off the series. England need their best players on the pitch making good decisions and you can see why Eddie Jones has talked about bringing in Will Carling to work with the leadership group. When they make those breaks they must be composed to finish them off," he said.
It had been England's first game after a long break and they were fielding inexperienced players in new combinations.
"They will need a bit of luck to stay in the game with New Zealand – and a lot more to beat them – but who gave them much chance in 2012? England have nothing to lose apart from their reputations and if they go out there and perform as well as they can they won't let anyone down.
"If they can play in the right areas, get [Ben] Te'o playing more aggressively in attack and defence and finish what they create, England will give New Zealand a game – but if they don't put in a 9/10 performance across the board the All Blacks will run away with it," he said.
?? Hey London, we've arrived.#ENGvNZL pic.twitter.com/tgiwrmnD1U— All Blacks (@AllBlacks) November 4, 2018