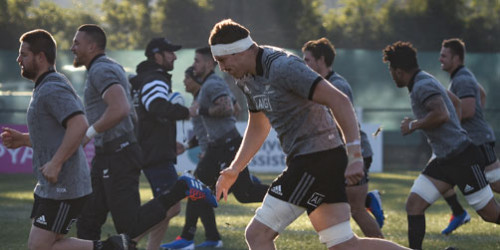 Assistant coach Ian Foster said Test matches over the last few years had been tough contests with large parts of games having been evenly contested with the All Blacks coming through when taking their opportunities well. Nelson last year had been an arm wrestle all the way.
"We're expecting a torrid battle really against a pretty confident team but they'll have their own plans for their buildup to the World Cup so we're not totally clear about how they are going to view it but we'd be foolish to think, based on what a lot of their players have done in Super Rugby, that it's not going to be a pretty intense, physical Test match," he said.
"It's an exciting way for us to start our year, we can't wait," he said.
Changes to the usual routine with no June window, a truncated Championship and travel to Argentina to start the series had been different but also the change had been enjoyable.
"With the amount of youth we have got in this group and the experience we've got at home I think it has been good for our newer players to be on the road where they can just mix and mingle and I think our learning is happening quicker because of that," he said.
At the same time, Saturday was a big challenge and it was important to nail the challenge.
The important thing for the All Blacks going into the game was having clarity about what they wanted to do but then making sure when going onto the park that they wanted to do the right things but not hesitating when it came to doing the physical things.
"Sometimes you can go on and think too much about game plans and what you're trying to achieve but under pressure you forget about doing the basics really well.
"We know that if we don't front up physically over here that the Argentinians have always grown an arm and a leg when they sense a bit of weakness in that area and the crowd gets behind them then they are such a talented and difficult team to control.
"So we've got to get the detail right but we've also got to make sure we don't go away from being a very physical rugby team on Saturday," he said.
Second five-eighths Sonny Bill Williams was back to fitness although whether that translated into Test selection would be doubtful, he said. For the moment, he was deliberately held back by Foster at training who was concerned in having his leg at full strength.
"But he's training really well. He's grumpy with me for holding back a little today because he's just ready to go. He's feeling really good but we just have to make sure we get full strength back into that leg," he said.
New first five-eighths Josh Ioane was adapting well to the All Blacks environment.
"He's confident, he's happy to run the game from a flatter position. He likes that, he can take the contact, he can pass. He's getting better at how he controls the game through his kicking and he's a pretty good goalkicker so in a nutshell that's his game.
"I've enjoyed his demeanour, just getting to know him. I've enjoyed his demeanour around the team. He's quietly going about his work and every training he's learning more and we're starting to hear his voice to the extent we need to.
"It's a great opportunity for him, it's great having him in there and he's got some good people around him to help him integrate well into this team," he said.
The selectors were aware that Jordie Barrett had positions that he wanted to play in but he had been named as a utility with the ability to play in a multitude of positions which was good for the All Blacks, especially in a World Cup year.
"We'd be foolish to not utilise that to see how we can cover things," Foster said.
Second five-eighths Ngani Laumape was continuing to advance his game, especially the need for greater communication from the midfield, something that was demanded of all players in that area.
"We needed a little bit more out of that area and just in terms of growing a bit of variety in what we offered in that space."
Foster thought Laumape had shown that at the end of 2018 when he had an outstanding game against Japan and on the rest of the tour he brought a stronger voice and organisation while happier to be at first receiver on occasions while also developing a kicking game.
"He kicked three times on the end of year tour and we scored three tries so that's not a bad strike rate. He's making big shifts and putting his hand up and that's great."