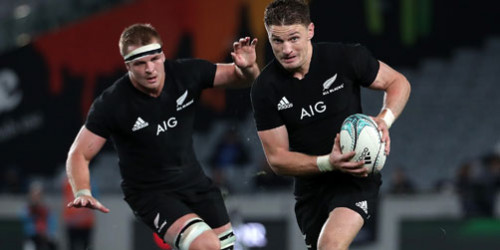 The sides are not scheduled to meet until November next year in a long-awaited showdown with the Six Nations champions. Attempts were made to have a Test against England included on the tour but they were unsuccessful.
First five-eighths Beauden Barrett said it would be unusual to play at Twickenham and not be facing England. It would be another year before that happened but playing at Twickenham was always exciting.
He wouldn't be drawn on how close the gap was between the All Blacks and England, it was too hard to say, and they would have to wait until next year. There was no disappointment that they weren't playing this year, the itinerary had been drawn up a long time ago.
"They're playing really good footy and they've seen some great shifts. We'll just have to wait and see. We've still got a long way to go too in our game and we're working hard on this tour and really excited about that," he said.
Flanker Sam Cane, when asked whether the gap between north and south was closer, said it was only necessary to recall the tough matches the All Blacks had had during recent tours in November to appreciate that it was down to who got it right on the day.
Both Cane and Barrett said they expected lessons learned by members of the British & Irish Lions, and taken back to their countries, would be used by those teams they faced.
But Cane added Test rugby was down to small moments and executing under pressure and there wasn't much between top-tier teams.
"We've got a pretty tough tour ahead but it's one we're really looking forward to," he said.
Barrett said he was excited about taking on the leadership role in Kieran Read's absence and he was looking forward to the first week of a northern hemisphere tour in which the All Blacks were wanting to play some attractive rugby.
Cane said he didn't see things changing too much for Barrett because while Read always had the final word in preparation, Barrett was generally a contributor to that process anyway.
As a player who had led the side Cane said taking on the captaincy wasn't the sort of thing you thought about when setting goals in the game as you aimed to play well first and foremost, he said.
"Most of the time leadership is something that you sort of grow into," he said.
Barrett said the two weeks after his head knock in the final Investec Rugby Championship Test in South Africa had been frustrating.
"Although they weren't severe [concussion] symptoms they were just there until I went over to Australia and met with the Doc. He gave me some exercises to do and I felt really good after doing so. Hopefully that's something that's implemented into the recovery process. I was pretty grateful for that and I'm feeling good now," he said.
Barrett recounted meeting one of the newest All Blacks hooker Asafo Aumua for the first time when he was seated between himself and TJ Perenara at the Hurricanes dressing room.
"He was so quiet. I was wondering who he was and where he came from and seemed like he was just fresh out of school. Out on the training paddock he sort of carved up. We were told he had been held back, he wasn't allowed to play."
But he had made an immediate impression. He was excited to be in the All Blacks and Barrett said he couldn't wait to see him given a chance.
"He's just a kid so we can't put mountains of pressure on him, it'll be just good to see him out there learning from guys like Colesy [Dane Coles] and Codie [Taylor] this week," he said.
Cane said he didn't think there would be much readjustment needed to change his approach at the tackle as required by the new laws being played in the northern hemisphere.
He said it meant you couldn't play the ball immediately at the tackle before coming back through the gate, but he said there was minimal opportunity to play the ball in those situations anyway.
Cane thought it would affect the tackler who bounced back up and then lingered around the tackle to buy more time but now the referees were going to be harder on that player which he thought was a good thing.