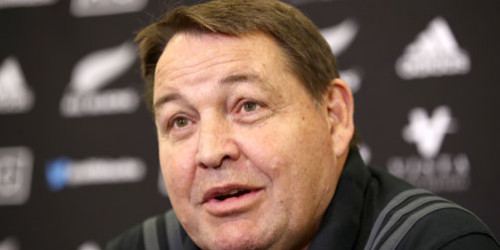 The Test with England was the first since 2014 and had shaped as a contest that was much awaited after England's resurgence following their disappointment when failing to make the playoffs at the 2015 Rugby World Cup staged on their own turf.
---
England had dipped in form since recently, but the challenge would still be there for the All Blacks, Hansen said.
England played differently to the All Blacks, they were a hard team to play against and they had showed that against South Africa when they held on in spite of a lack of possession. They had demonstrated that they, and South Africa, were the two best aerial sides in the world with their kick-and-chase.
"When you play top level sport, you want to be involved in the big games and this weekend allows us to do that. We'll measure ourselves on how we perform," he said.
Once that was done they would re-evaluate and then start again.
So far as England's form in 2018 was concerned, Hansen said their form wouldn't matter if they won on Saturday.
But he repeated his comments that England, who contributed a sizeable portion of the 2017 British & Irish Lions side, had not been helped by that tour with little recovery time before embarking on another campaign. However, they had showed they had been learning and that made them a dangerous team.
Asked about first five-eighths Owen Farrell's controversial tackle, Hansen repeated earlier comments on referees that they would get some decisions right and others wrong. South African fans would think it was a penalty and England fans wouldn't, he said. The person to talk to was the head of world refereeing.
"We as players, coaches and people involved in the game, we just have to take the decision on the chin. There's plenty of decisions in the past that we haven't necessarily agreed on but we can't go back and change them," he said.
It had been just one of those moments with no foul play intended.
While England coach Eddie Jones had been bullish about his side's prospects, Hansen said that was what you would expect of a coach. He believed in his side just as Hansen believed in the All Blacks.
"Talking to Eddie, I know he and England are very excited about this game, and we are too.
"We usually talk either by text or by phone, probably every second week. It's always good to have other people who are doing a similar role to yourself to be able to talk to.
"First and foremost you've got to have some form of relationship that allows you to get on with each other. You don't ring people up you don't like, just because they are doing the same job as you. So it probably indicates that I like him and he might like me; I don't know.
"The bottom line is we talk, our wives talk, and that's not surprising. I think he's a good bloke.

?? #ONTHISDAY in 2010, the All Blacks edged @EnglandRugby 26-16 in front of 80,000 fans at Twickenham. What are your score predictions for when they meet at the same venue this weekend?#ENGvNZL pic.twitter.com/5wwLU5Mjcr— All Blacks (@AllBlacks) November 5, 2018
"The only people that don't understand what it's like to be a coach of an international team are the people who've never been one. There's a lot of pressure there, all the time, whether you're winning or losing. It comes just in a different wrapper. And the expectations when you coach a top side like England are, you're expected to win, and play well.
"Eddie more than anybody understands that. So he's not too bothered by it. People who get excited by it are the people what have to write the stories and sell the newspapers. The bottom line is he'll be going about doing his job like he always does. And looking from afar, I think he's doing a pretty good job.
"Winning doesn't make it any less pressure, it just comes in a different package. But you know that, you know that there's going to be pressure with the job, and you accept that and you get on with it," he said.
Jones had a great work ethic, he did a lot of homework and through that he will have seen some areas he will want England to target.
"Does that give him any better idea how to beat us that anyone else? Maybe. But there's a lot of good coaches out there. To win a Test against a good opponent you've got to do your homework and things have to fall your way a wee bit.
"Does it mean we've got to be on guard against England? Obviously. It wouldn't matter if he wasn't bullish. They are a good team. They won 18 in a row, only one other side in the world has ever done that. So it makes them a good side," Hansen said.
??? WRAP | With the @rugbyworldcup less than a year away, find out how the contenders are faring with our wrap of the weekend's international action. Who do you think is peaking well for 2019?

READ ?? https://t.co/PbqegmndKD pic.twitter.com/CpSZd04O5I— All Blacks (@AllBlacks) November 5, 2018