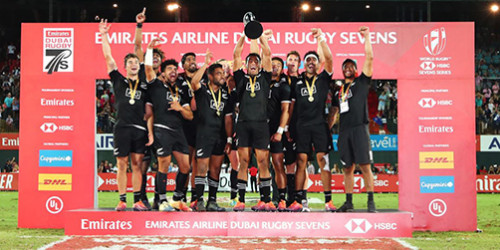 The All Blacks Sevens team is;
1. Trael Joass
2. Luke Masirewa
3. Tone Ng Shiu
4. Ngarohi McGarvey-Black
5. Dylan Collier
6. Vilimoni Koroi
7. Amanaki Nicole
8. Andrew Knewstubb
9. Etene Nanai-Seturo
10. Scott Gregory
11. Jona Nareki
12. Sione Molia
*Taylor Haugh is the travelling reserve.
Etene Nanai-Seturo makes a return to the All Blacks Sevens team in Cape Town after last turning out in the black jersey at the London Sevens in June.
---
QUICK TAP: TEAM ALL BLACKS PRESENTS 15 DAYS OF XVMAS
---
Nanai-Seturo, Trael Joass and Taylor Haugh flew to Cape Town this week after the All Blacks Sevens team picked up five injuries in the led up to and during the Dubai Sevens.
"Last weekend was quite testing with the injuries but we've had three good players join us who know how we want to play the game," said Laidlaw.
Joass is a fully contracted member of the All Blacks Sevens squad, while Nanai-Seturo spent the 2017/18 season with the team and Haugh made his debut at the Oceania Sevens in Fiji last month.
It will be a young All Blacks Sevens team that takes the field in Cape Town, with the five most experienced members of the squad - who boast 200 tournament caps between them - unavailable to play.
"We spent a lot of last season building depth in our squad and we saw players like Dylan, Sione and Andrew really step up in Dubai.
"Looking at this weekend, we're here to win. We think we can play better and the group we've got here is excited about getting back out there," said Laidlaw.
The All Blacks Sevens are facing Zimbabwe, Samoa and South Africa in a tough pool, the assignment intensified by South Africa's celebration of what would have been Nelson Mandela's 100th birthday.

STORY | After an amazing start to the season last week in Dubai, there will be a big target on the #AllBlacks7s backs in Cape Town this weekend. Will it be 2?? from 2???

?? https://t.co/5r6TQ61Hue pic.twitter.com/0kmqecgLxf— All Blacks Sevens (@AllBlacks7s) December 6, 2018
Schedule
Day One – Saturday 8 December
12.49pm v Zimbabwe (11.49pm Saturday NZT)
4.10pm v Samoa (3.10am Sunday NZT)
7.56pm v South Africa (6.56am Sunday NZT)

Day Two – Sunday 9 December
Play offs

Broadcast
Watch the HSBC Dubai Sevens on Sky Sport Pop Up (Channel 55)
2018/2019 Schedule

HSBC World Rugby Sevens Series, 30 November - 1 December, Dubai - WINNERS
HSBC World Rugby Sevens Series, 8-9 December, Cape Town
HSBC World Rugby Sevens Series, 26-17 January, Hamilton
HSBC World Rugby Sevens Series, 2-3 February, Sydney
HSBC World Rugby Sevens Series, 1-3 March, Las Vegas
HSBC World Rugby Sevens Series, 9-10 March, Vancouver
HSBC World Rugby Sevens Series, 5-7 April, Hong Kong
HSBC World Rugby Sevens Series, 13-14 April, Singapore
HSBC World Rugby Sevens Series, 25-26 May, London
HSBC World Rugby Sevens Series, 1-2 June, Paris

Captain's preview | Andrew Knewstubb on @AllBlacks7s #Dubai7s win and what to expect this weekend at the #CapeTown7s pic.twitter.com/1xLjGitwn1— World Rugby Sevens (@WorldRugby7s) December 4, 2018