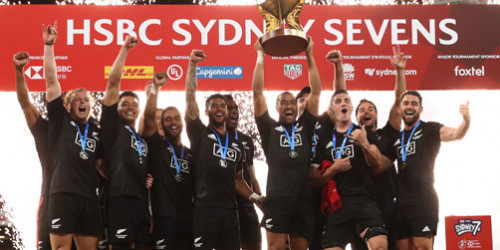 It capped an impressive weekend in spite of more injuries as they inflicted the fourth finals loss of the 2018-19 series on the Americans.
---
It was New Zealand defensive pressure that told and when forcing a knock-on, Vilimoni Koroi moved the ball from the scrum, doubled around Sione Molia to pass the ball to a flying Regan Ware on the wing. He smashed the American tackle attempt and raced in for the first try.
Molia and Ware combined again to capitalise on an American handling error which resulted in Sam Dickson, later awarded the player of the final award, going over for a try.
Into the second half Trael Joass got onto the field for the hard-working Scott Gregory and made a powerful run into the USA 22m area. From the breakdown ruck Tone Ng Shiu threw a dummy and waltzed through the gap to score New Zealand's final try.
There was late reward for the USA when Brett Thompson scored after New Zealand allowed Martin Iosefo to run strongly through the midfield.
Molia said the Sydney win was taking them one step closer to their goal of winning the series.
It had been a tough battle but New Zealand had learned the lessons from their semifinal loss to the USA in Hamilton last week and the key to their success had been sticking to what they knew and executing it.
New Zealand qualified for the final when beating an ill-disciplined Fiji team 36-14. The competition co-leaders played much of the game with six men after a dangerous tackle on Gregory by Sevuloni Mocenacagi. And when Meli Derenalagi was sin-binned for a shoulder charge on Tone Ng Shiu, Fiji had only five players on the field. That was negated a little when Kurt Baker was sin-binned for a jersey pull.
However, by that stage the game had gone from Fiji's grasp. New Zealand made an outstanding start when Ng Shiu scored following a strong run made by Vilimoni Koroi and Dickson, in support, ensured ball for Baker to shimmy and provide the space for Ng Shiu to score.
A break by Molia through the midfield shattered the Fijian defence and holding the ball as long as he could Molia then passed knowing Gregory's momentum would carry him across the line in the Fijian tackles.
Jerry Tuwai got seven points back for Fiji after an outstanding offload out the back by Mesulame Kunavula.

Celebrating our Cup Final win over USA with a HAKA!#Sydney7s pic.twitter.com/aYET5jnDqd— All Blacks Sevens (@AllBlacks7s) February 3, 2019