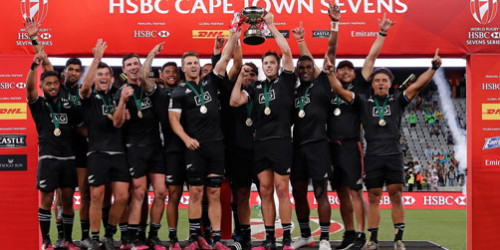 Having eliminated home-town favourites South Africa in the semi-finals 19-12, New Zealand beat Argentina 38-14 in the final to claim the title.
After two tournaments in the 2017-18 series New Zealand now lead by two points, having lost to South Africa in the Dubai final last week.
---
QUICK TAP: BAYLEYS NATIONAL SEVENS QUALIFIERS FOUND
---
Captain Scott Curry said, "I'm so proud of how the boys played this weekend and last weekend. It could have gone either way after we lost our first pool match against USA yesterday but day two is another day.
"We started fresh and really worked for each other and that's what won it for us. We'll look forward to our home tournament in Hamilton coming up soon – it's a new city and they really love their rugby there."

The final @DHLRugby RE:Live of the #CapeTown7s and it goes to this huge man Joe Ravouvou, who cannot be stopped. pic.twitter.com/RCKbxeEfGM— World Rugby Sevens (@WorldRugby7s) December 10, 2017
The next tournament in the series is in Sydney on January 26-28 followed by Hamilton a week later.
New Zealand were up against it from the start of the day when a wild long pass from Sam Dickson in their own 22m area created panic in the ranks when it bounced off the base of a New Zealand goalpost and bounced around in the in-goal area before it was pushed dead resulting in a five-metre scrum from which England scored.
However, the New Zealanders retained their composure and worked the ball around before replacement Andrew Knewstubb, on for the injured Joe Webber, was in good support to score their opening try.
Down 5-7 at halftime, New Zealand saw England score again. However, good work on the right flank saw Joe Ravouvou and Dylan Collier combine to put Collier over.
Then, with time counting down and England on defence, their captain Tom Mitchell was sin-binned for a high tackle and New Zealand pounced to get Ravouvou over in the corner for the match-winning try.

HAKA: @nz7s celebrate winning their first tournament of 2017 with a Haka pic.twitter.com/K9xC6QI4Yz— World Rugby Sevens (@WorldRugby7s) December 10, 2017
South Africa had moments earlier been forced to work hard to beat Fiji 31-26.
Fiji led 14-0 within two minutes and at one stage were out to 21-5 but South Africa fought back to claim the win just on fulltime.
That took its toll, however, and New Zealand were able to take advantage, although once again they had to come from behind after Ravouvou was sin-binned for a late tackle as home captain Phil Snyman scored the opening try.
While Ravouvou was off the field, Tim Mikkelson was able to score although Cecil Afrika scored to give South Africa a 12-7 halftime lead.
Vilimoni Koroi was fed the ball from the second half restart just inside the 22m area. He split two defenders and then set out for the line with a startling burst of speed which even Afrika was unable to cope with as the scores were levelled.
Then, Ravouvou made a strong run down the right wing and while tackle by Rosko Specman, Webber was on hand to pick up the ball to score and claim the win.
In the final, New Zealand were in complete control with Joe Ravouvou scoring twice with Koroi, Mikkelson, Regan Ware and Sione Molia all crossing as well.
CHAMPIONS! #CapeTown7s pic.twitter.com/w0NBXC5pJV— NZ7s (@nz7s) December 10, 2017