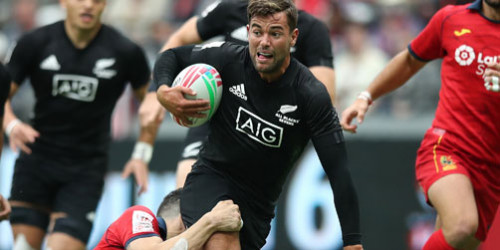 Spain beat New Zealand 26-24 but superior points differential saw it finish top of their pool with France second. But Fiji were beaten by Canada 19-26 and finished second in their pool which had three teams on seven points deciding placings on points differential.
---
QUICK TAP: ROUND FOUR SUPER RUGBY REVIEW
---
Needing to beat Australia to ensure they qualified for the playoffs, the New Zealand Sevens turned on the power to record a 36–12 win.
That was because earlier Spain provided the upset of the tournament when beating the All Blacks Sevens 26-24.
Against Australia, Joe Ravouvou signalled New Zealand's intent when scoring and when Australia fumbled the restart Sam Dickson tidied and added the try.
A superb breakdown steal by Tim Mikkelson allowed him to make the break to be uncontested in his run to the line. Ravouvou scored another to get the All Blacks out to a 24-0 lead before Dylan Pietsch scored for Australia.
After the restart Vilimoni Koroi ran to the corner after a lineout play and Ngarohi McGarvey-Black scored.

?? Reaction: @AllBlacks7s captain Tim Mikkelson gave us his thoughts after booking a place in the cup quarter-final at the #Canada7s pic.twitter.com/aR4YBze2i2— World Rugby Sevens (@WorldRugby7s) March 10, 2019
A strong run by Sam Dickson took him close to the line and when the ball was recycled Koroi was able to claim a try. However, moments later he was sin-binned for a high tackle and Australia scored a try through John Porch.
Meeting Spain, New Zealand got out to a 12-0 lead courtesy of tries to Ravouvou and Andrew Knewstuff. But indiscipline allowed Spain to claim the lead, first through a try to Ignacio Rodriguez-Guerra then after a penalty kick to the corner Francisco Hernandez scored after Dickson was sin-binned for a deliberate knock on and with the conversion Spain led 14-12.
Into the second half, Juan Martinez took Spain to five metres out from the New Zealand line with Joan Losada scoring the try.
New Zealand recovered after Dickson returned. Scott Gregory put Ravouvou in with a chance which he took and then as Spain run the ball from a penalty New Zealand make the intercept and it is Dickson who scored.

FT | The #AllBlacks7s bounce back to defeat Australia and secure a spot in the Cup quarterfinals ??

We will play the second placed team from Pool B on Monday 7.30am NZT #Canada7s pic.twitter.com/IhvgiEUaoy— All Blacks Sevens (@AllBlacks7s) March 10, 2019
However, Spain had the final say when Losada broke and when confronted by Koroi, Pol Pla was in support on the inside to take the ball and score for a first win by Spain over New Zealand.
Sione Molia opened the tournament for the All Blacks Sevens with the first try against France when showing his speed, to follow up his seven tries in Las Vegas.
Joe Ravouvou provided the foundation for the second try with a strong break down the left flank before finding Vilimoni Koroi inside him to score.
A Tone Ng Shiu steal freed the ball for Ravouvou to score his own try to take the All Blacks Sevens out to a 19-0 lead. However, just before the break France's Samuel Alerte got past Ravouvou to score.
Into the second half early defence brought its reward when Ravouvou made another break to find Tim Mikkelson inside in support to score.
Ng Shiu then provided replacement Sam Dickson with ball from an inside pass and he had too much speed for the defence. A sin-binning near the end proved costly for France as firstly Andrew Knewstubb crossed for a try and then Knewstubb provided a chance on the outside for Ng Shiu to score and New Zealand to secure a 45-7 win.
The @AllBlacks7s are in scoring form and this one was all about Sione Molia's pace to finish. 33kmph and a long run in to score #Canada7s pic.twitter.com/qVCe39H2T6— World Rugby Sevens (@WorldRugby7s) March 9, 2019