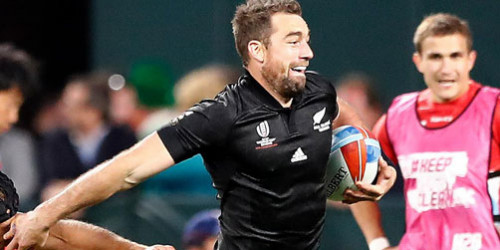 02am on Monday (NZT).
New Zealand qualified after beating France 12-7 while Fiji swamped Argentina 43-7 in an outstanding display of their potential.
On the other side of the draw the United States forced England to extra time before England won 24-19. They will meet South Africa who beat Scotland 36-5.

REACTION ?? Despite being down to six men for most of the match, Kurt Baker says the team sees the positive signs in their 12 - 7 win over France. #RWC7s pic.twitter.com/9SkoiIkmN0— All Blacks Sevens (@AllBlacks7s) July 22, 2018
Against France, New Zealand were fortunate to concede only one try in the first half during which they had three yellow cards, to Joe Ravouvou (deliberate knock down), Tim Mikkelson (high tackle) and Dylan Collier (neck roll).
France did score after Ravouvou's exit, but determined defence denied them any more opportunities.
---
QUICK TAP: BLACK FERNS SEVENS MAKE HISTORY IN SAN FRAN
---
Kurt Baker said at halftime the All Blacks Sevens looked at the positives from their first half effort, especially the psychological lift when France opted to kick a runnable ball out to go to halftime.
"For us that was a sign they were trying to hang on rather than trying to win the game. We swung it around and it worked in our favour," he said.
"We were a wee bit inaccurate, even in the second half, but we were all on the same page.
"We regathered ourselves when we needed to and that's all you can ask for," he said.

That feeling when you book your place in the Championship semifinals ????????#RWC7s pic.twitter.com/R9bXXt3GfQ— All Blacks Sevens (@AllBlacks7s) July 22, 2018
Restored to full strength for the second half, New Zealand applied pressure and from a scrum out from the French posts, after clever work by Andrew Knewstubb upset French ball to see another scrum set for New Zealand, it was Kurt Baker who ran onto Knewstubb's pass to run in under the posts to level the score.
Almost from the restart, New Zealand gained a penalty and moved the ball quickly to give Ravouvou the space he needed to race along the touchline to score what proved the matchwinner.
France finished strongly as they sought a way through but were guilty of mistakes that turned the ball over and it was a relieved Knewstubb who latched onto another French knock-on to kick the ball to touch to claim the win.
Baker said Fiji would be a big challenge for them in Monday's semifinal.
It wasn't the first time they had played them but they would look at them and some of their new players, and then concentrate on their own approach for the game while discipline would be a key point in their pre-game discussions, he said.
Here are your Championship semi-final line-ups in the men's competition on Sunday:@Blitzboks v @EnglandRugby - 12:40pm (GMT-7)@fijirugby v @AllBlacks7s - 13:02pm (GMT-7)

Find out where to watch: https://t.co/gSjXJAsfBy pic.twitter.com/Aj0HMNbwYm— Rugby World Cup Sevens (@WorldRugby7s) July 22, 2018