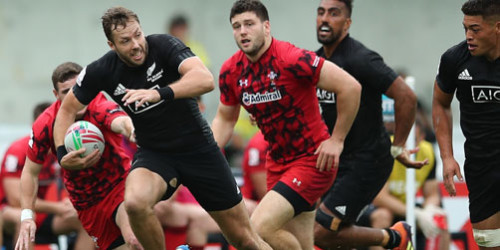 38pm (NZT).
New Zealand opened with a 27-14 win over Wales, a 41-0 win over Spain and a 42-0 win over Scotland.
All Blacks Sevens coach Clark Laidlaw said he was most pleased with the way the side built through the day.
"It's always difficult when you to week two and you come to the stadium at half-seven, eight o'clock in the morning and there's no one here and we had a real tricky game in the wet conditions against Wales. We felt we let ourselves down a little in that game so to come back and play as well as we have done in the next two games is really pleasing," he said.
Assistant coach Tomasi Cama, who didn't often say much to the side, had a word after the Wales game and it had the desired effect.
While they were happy with where their game was, Laidlaw said they were trying to build their game for the playoffs on Sunday.
The fact Spain and Scotland had been unable to score was satisfying but the number of penalties conceded to Scotland would have to be assessed, especially if illegalities were creeping into their play.
Laidlaw confirmed that Amanaki Nicole had picked up an injury on the first day so Trael Joass would be playing during the second day.
Wales didn't help themselves when knocking the ball on at the first scrum of the game. Vilimoni Koroi was quickly onto the ball to send Joe Ravouvou on his way for the opening try.
But an inaccurate lineout throw by New Zealand was capitalised on by Wales and Owen Jenkins scored with the conversion giving Wales a 7-5 lead. New Zealand's response was almost immediate when Wales conceded a penalty. Tone Ng Shiu latched onto a long pass fired out by Karl Baker to reclaim the lead.
Baker was in the action again when he got a long ball to Amanaki Nicole who cut back infield from the right flank and then moved back out where Baker was waiting to score.
Wales got back within a point after a high tackle penalty was given against New Zealand. Roach ran back on the angle and through the defence to score.
However, the All Blacks Sevens responded immediately after Ng Shiu and Sione Molia provided Regan Ware with space to score while just before the end a Wales penalty as Ware's clearance provided the play which saw Molia finish off the game.
Having faced Spain in pool play last week in Hamilton, and knowing they had upset Scotland 10-7 in their opening game, New Zealand knew what to expect. The All Blacks Sevens but a Spanish penalty in the first minute allowed Regan Ware to score within the first minute.
Then Sam Dickson's tenacity was put to use on both the left and right flanks to score in the third and fifth minutes, the second try coming after some straightening up supplied courtesy of Jona Nareki.
Dickson then poured on the offensive pressure with a superb tackle and turnover which provided quick ball allowing Nareki to unleash his change of pace and step to slip through for the try.
Down 0-22 at the break, Spain restarted with a kick straight to Ravouvou who took the ball, broke a tackle and then cleared out on a 60-metre run to the line.
Baker came on as a substitute at which point Spain overthrew a lineout. Scott Gregory claimed the ball and then threw a precision pass to Baker who took it at speed, raced through a gap and scored 70m downfield.
As the All Blacks Sevens got back into the Spanish 22m area, Baker switched the play from a scrum having moved right. His pass reached Koroi who worked the gap to give Ravouvou a straight run to the line for his second and a 41-0 win.
Scotland came out desperate to make up for their loss to Spain earlier but in spite of enjoying a dominance of possession, and advantage from refereeing rulings, they lacked the clinical approach New Zealand employed when getting their hands on the ball.
Coach Clark Laidlaw gave his preferred starters a break in the game and the less experienced players took their chances. Scott Gregory was outstanding at the breakdown, winning ball and scoring two tries as a result of his support work.
Andrew Knewstubb showed his speed in also scoring two tries, the first an 80m run which fooled the Scottish defence who stood off him and gave him the slightest encouragement to take them on, he did and they paid the price.
After another breakdown won by Gregory and good build-up work between Regan Ware and Baker it was Ware who scored.