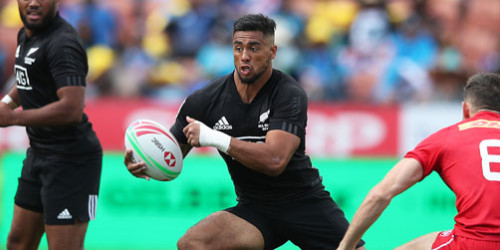 Unbeaten on the first day with a 52-0 win over Japan, and a 49-10 win over Canada, the side had to battle hard to subdue Spain in their last game.
Coach Clark Laidlaw said it had been good not to get their own way in the final game when Spain turned on a feisty performance before going down 24-0, a scoreline inflated by an injury time try to Kurt Baker.
They went into the game without co-captain Scott Curry who rolled his ankle in the warm-up but that was the only injury on the day.
New Zealand were only able to score one try in the first half when Dylan Collier scored just before the break. However, Tim Mikkelson's speed and strong running by Sione Molia carried New Zealand to safety early in the second half.
In the other quarterfinals Fiji will play Canada, South Africa will meet Samoa while the series leaders, the United States will play Scotland.
Australia beat New Zealand last year in Hamilton and they were a good side who were well coached and had played well on Saturday to go close to stopping Fiji.
"We're under no illusions, Australia will be reasonably fired up and so will we," Laidlaw said.
The effort had been encouraging, they were not far off where they wanted to be, and Laidlaw felt they were a little bit ahead of where he thought they would be especially with players back after lengthy time out with injuries.
"We're really happy with the rhythm we've got but day two is a different day, you've got to start again. We know that but we'll go home reasonably satisfied tonight and come back tomorrow," he said.
New Zealand made a comfortable start to their opening game against Japan, being up 26-0 by halftime. All of the squad got on the field with Mikkelson playing until just after the start of the second half to mark his return for the first time this season.
Regan Ware demonstrated his form with a superb second half try when stepping off his left wing, beating defender after defender as he crabbed across field off his left foot before straightening to take a gap and charge through the middle to open the second half scoring.
Japan failed to gather the restart and within moments after Sam Dickson prevented the ball going out by flicking it infield to Baker, Jona Nareki was able to take Baker's pass and race in for his second try of the game.
Joe Ravouvou came on for the latter part of the game and made an immediate impact with a strong run down the left-hand sideline before in-passing to Viliami Koroi who scored.
To cap off the game, Ravouvou had the final scoring chance which he took with plenty of space available to give New Zealand its win.
Canada proved no hurdle after their kick-off to start the game, a chip kick which fell straight into Koroi's arms, just short of making 10m. Koroi stepped left and ran into vacant real estate to run 50m for a try nine seconds into the game.
Ware then bagged a brace, the first when tidying backline ball that had gone to ground and then on the end of a reverse offload from Dickson which allowed Ware to run in down the right flank.
A neck roll on Dickson was ruled just out from Canada's line a minute out from halftime and with a player sin-binned, New Zealand made no mistake from the tap with Baker firing a misout pass with Curry running onto it from an outside-in angle to score beneath the posts.
Up 28-0 at the turn, the All Blacks Sevens saw Canadian fast man Justin Douglas get into space and have too much speed for the defence. Another fast man Cole Davis broke out from his own territory only to be run down by Koroi. But Canada enjoyed a good period on attack before New Zealand's substitutes arrived to carry the side home. Ravouvou, Sione Molia and Andrew Knewstuff all crossed to destroy Canada's hopes.