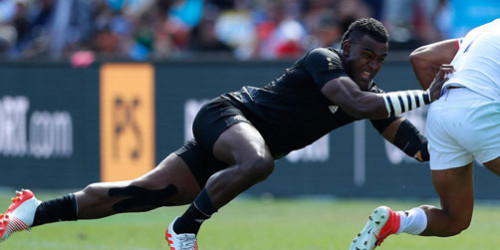 53pm.
In what will be a replay of the last World Cup final, the sides will meet after both achieved upset results by beating the top seeded teams South Africa and Fiji.
England were first in knocking over South Africa 29-7 and New Zealand followed with a 22-17 win over Fiji.
Playing a strong defensive game, New Zealand competed at every tackle to deny Fiji their ability to play their ranging running game. It was also a triumph for the All Blacks Sevens ability to run the ball from set-pieces that gave them their edge.
It was New Zealand who scored first when Sione Molia doubled round Regan Ware from a scrum to give Joe Ravouvou space on the outside to out-pace the Fiji cover to score.
Fiji replied with a powerful blindside break by Semi Radradra who bumped off Kurt Baker's tackle attempt.
But New Zealand responded immediately from the restart by moving the ball into the Fiji 22m area and when the ball went to ground on an inpass Tim Mikkelson scrambled to recover the ball which was then moved wide for Ware to score in the right hand corner.
Just before the halftime break Amenoni Nasilasila kicked ahead, won the race to recover the bouncing ball to score, although he tempted fate by getting too close to the deadball line, the TMO stating he hadn't crossed the line.
That gave Fiji a 12-10 lead at the break but upon their return New Zealand's defensive game paid off when Dylan Collier's ankle tap resulted in Fiji attempting a pass which went forward in the tackle.
From the resulting scrum, Baker, at halfback, ran wide and into the Fiji defence before passing out. That created space out wide and Ware made the most of it to get around his marker and race 60m for an orthodox try.
The dose was repeated again from another Fiji mistake, from a similar position on the field, and this time it was Jona Nareki who got the break, and while the defence got him he slipped a pass inside where Ravouvou was waiting and able to get the try which gave New Zealand the lead 22-12 with time running out.
Fiji had one last response when scoring on the final whistle but it was too late to deny New Zealand their place in the final.