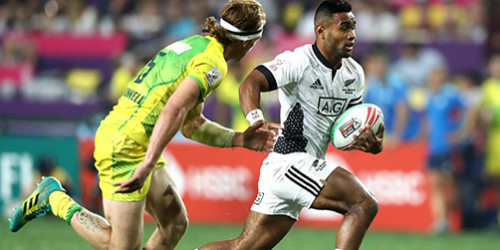 New Zealand donned their white strip and came together with Australia before kickoff for a minute's silence, in a mark of respect for those who lost their lives in the Christchurch terror attack.

---
QUICK TAP: JONA NAREKI MARKS ONE YEAR WITH ALL BLACKS SEVENS
---
It didn't take the All Blacks Sevens long to bag points, with Joe Rovouvou showing his pace along the left sideline to open the scoring in the first minute. Sione Molia was prominent in the first half and a brilliant short pass to Regan Ware saw him dash away for New Zealand's second try.
Australia struck back quickly through Nick Malouf and some ill-discipline from New Zealand after the try saw Australia awarded a penalty. Maurice Longbottom took a quick tap and found a hole in the New Zealand defence and sprinted towards the posts, levelling the score 14-14.


REACTION ?? Christchurch local Sam Dickson reflects on the touching tribute between the #AllBlacks7s and @Aussie7s before kick off #HK7s pic.twitter.com/5ELQsZ0hSm— All Blacks Sevens (@AllBlacks7s) April 5, 2019
It was a ding-dong battle in the first half, with fatigue well and truly settling in. But two and a half minutes after the half time whistle, the All Blacks Sevens found Rovouvou out wide and he gave New Zealand a 21-14 lead at the break.
The All Blacks Sevens were too good in the second half, Sam Dickson showing his determination and strength to barge over to score early in the spell. Jona Nareki also found the try line, as well as Joe Webber who scored on his long-awaited return after suffering from reactive arthritis.
Australia bagged a consolation try on full time, but after being right in the match at the break, the damage had been done in the second spell.
New Zealand 40 (J Ravouvou 2, R Ware, S Dickson, J Nareki, J Webber tries; A Knewstubb 5 con) Australia 19 (N Malouf, M Longbottom, D Pietsch tries; L Holland 2 con) HT: 21-14 New Zealand
In the other Pool C match, Fiji beat Kenya 22-5.
The All Blacks Sevens are back in action in Hong Kong on Day Two later tonight;
New Zealand v Kenya, Saturday 6 April, 5.51pm NZT
New Zealand v Fiji, Saturday 6 April, 9.55pm NZT
The All Blacks Sevens currently sit in second place on the HSBC World Sevens Series standings on 106 points, close behind USA on 113. Fiji are in third place with 101 points.

#TheyAreUs pic.twitter.com/qW25TiUvY8— All Blacks Sevens (@AllBlacks7s) April 5, 2019