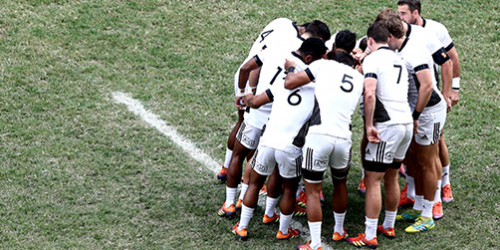 New Zealand finished in sixth place in Hong Kong over the weekend, but they are quickly shifting their focus to the Singapore Sevens, beginning on Saturday NZT.

Following the All Blacks Sevens loss to Argentina in the fifth place playoff in Hong Kong, Sam Dickson said everyone has got to take a good look at each other.
---
---
"As long as everyone can improve at least two percent for this week then that's a big gain overall for the team. We will be bringing a lot of mongrel and fire in Singapore to make up for this weekend, but we have plenty of belief in our systems."

With three more tournaments remaining in the 2018/2019 HSBC World Rugby Sevens Series, the All Blacks Sevens know how important it is to finish off strong in Singapore, London and then Paris.
In the overall standings, they currently sit in third place on 118 points, after being overtaken by Fiji who are now on 123. USA still lead the standings with 130 points.
Olympic qualification is also on the line in the final tournaments. New Zealand must finish in the top four to gain automatic qualification for the 2020 Tokyo Olympics.

The All Blacks Sevens are in Pool D for the Singapore Sevens. They take on Japan, Spain and Samoa.

Congratulations @IrishRugby, looking forward to having you on the @WorldRugby7s Series next season ?? https://t.co/Czg3VcnFFn— All Blacks Sevens (@AllBlacks7s) April 7, 2019