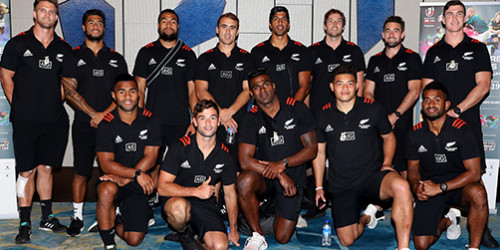 The All Blacks Sevens team is;
1. Scott Curry (c)
2. Tim Mikkelson (c)
3. Tone Ng Shiu
4. Joe Ravouvou
5. Dylan Collier
6. Jona Nareki
7. Sam Dickson
8. Andrew Knewstubb
9. Regan Ware
10. Kurt Baker
11. Joe Webber
12. Akuila Rokolisoa
*Amanaki Nicole is the travelling reserve.
Sione Molia has been ruled out after sustaining a shoulder injury in Hong Kong, Akuila Rokolisa replaces him while Amanaki Nicole has been called in as the travelling reserve.
---
QUICK TAP: ALL BLACKS SEVENS SHIFT FOCUS TO SINGAPORE
---
Head Coach Clark Laidlaw said the team was disappointed in Hong Kong last weekend.
"We have shown that when we win a quarter-final we are good enough to go all the way so to lose that was massively disappointing.
"We'll be better for it. We had four players coming back from injury that got valuable game time behind them and have trained well this week. We are clear on what makes our game work so need to make sure we put that on the field."
#AllBlacks7s promising more ?? in Singapore this weekend!

READ ?? https://t.co/2R24ZkGQ6B pic.twitter.com/dkOVN6VtWE— All Blacks Sevens (@AllBlacks7s) April 8, 2019
After facing the pool of death in Hong Kong, Laidlaw said the pool assignment against Japan, Spain and Samoa is no easier.
"It's a really tricky group. Japan were strong last weekend and they are fighting hard to avoid relegation. We know what Spain are capable of and Samoa are one of the most improved teams on the circuit.
"We need to concentrate on each game to play well and if we do that we should be able to stay towards the top of the standings," said Laidlaw.
Schedule (dates and times in NZT)
Day One – Saturday 13 April
2.00pm v Japan
5.28pm v Spain
9.16pm v Samoa
Day Two – Sunday 14 April
Finals Broadcast
Watch the HSBC Sydney Sevens on Sky Sport pop up channel 1
Drawn in Pool D, the #AllBlacks7s will meet Samoa, Japan and Spain at next week's #Singapore7s pic.twitter.com/COCSuAFCvl— All Blacks Sevens (@AllBlacks7s) April 7, 2019