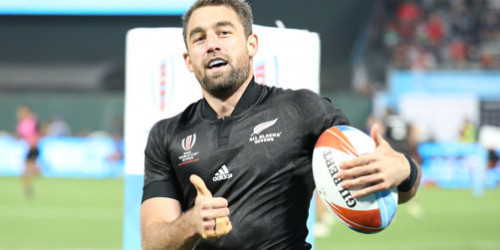 New Zealand will now play France in the quarterfinal on Sunday at 11.16am (NZT). France who had to qualify by beating Jamaica 50-0 then advanced by upsetting Australia 22-17.
---
QUICK TAP: BLACK FERNS SEVENS STORM INTO SEMIFINALS
---
Coach Clark Laidlaw said it had been great to get a run around after a long day.
"I'm really happy with how the guys played, the first game after a few weeks off and sets us up nicely for tomorrow.
"We watched France play this morning. Tomasi [Cama] and I came down to watch them live. They've got a couple of gamebreakers and they can score from distance. We'll have a good look at them tonight and tomorrow morning," he said.
"We'll have to be on our toes, that's the first upset and there will probably be a few more."
He admitted to being nervous about how the side would play after a break but he was pleased their accuracy got better as the game went on. It had also been encouraging to get everyone on the field during the game.
New Zealand, the defending champions made a cautious start. Russia moved into the last 16 courtesy of their 21-7 win over Hong Kong. It was big Joe Ravouvou who crossed for the first try when taking a reverse pass from Scott Curry which allowed him to find clear space down the left touchline and a 50m run for the try.
Russia attempted to build from the restart but a knock-on at a critical moment saw the All Blacks Sevens quickly into formation resulting in Kurt Baker being on the end of the line, to fend off an attempted tackle and then also run in from 40m out.

Joe Ravouvou was on fire against Russia with this epic try #RWC7s pic.twitter.com/LUvy00e8Cd— Rugby World Cup Sevens (@WorldRugby7s) July 21, 2018
Russia enjoyed their best period of the game just before the halftime break when moving the ball efficiently after New Zealand's restart had failed to go 10m. Penalised twice five metres out from their own line, it was eventually Vladislav Lazarenko who scored in the corner on the halftime hooter.
New Zealand kicked off for the second half pinning Russia in their own 22m area which was where they played most of the half.
An effective counter ruck just out from the goalline allowed Ravouvou to pick up the ball from the base of the ruck to power his way through three tackles to extend New Zealand's lead to 17-5.
Some effective working of the ball in passing movements saw Curry and Regan Ware create a chance for Andrew Knewstubb to cut back on the break to score.
More pressure on Russia in their 22m resulted in the All Blacks winning an effective counter ruck, gaining a penalty and moving the ball quickly for Tim Mikkelson to score in the corner to complete the win.
Your men's Championship quarter-finals are as follows:@Scotlandteam v @Blitzboks @USARugby v @EnglandRugby @unionargentina v @fijirugby @FFRugby v @AllBlack7s#RWC7s pic.twitter.com/RBK2uA6wfm— Rugby World Cup Sevens (@WorldRugby7s) July 21, 2018