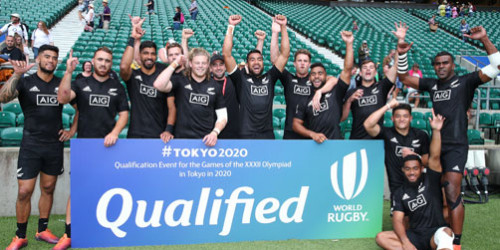 20pm (NZT) on Sunday, the All Blacks Sevens secured their place in next year's Olympic Games sevens tournament on the opening day of the London Sevens.
New Zealand were joined as qualifiers by the United States and Fiji.
In the other quarterfinals, South Africa will play Australia, the United States will play Canada and Fiji will play Ireland.
---
QUICK TAP: HEROIC DEFENSIVE EFFORT KEEPS CHIEFS ALIVE IN 2019
---
The All Blacks Sevens went down to a desperate England team in the last game of the day 17-21. England had earlier gone down 17-21 to Ireland. Oliver Lindsay-Hague scored in the first minute for England.
However Scott Gregory levelled the scores in the fifth minute. But two tries early in the second half to Dan Norton and Will Edwards did the damage and the All Blacks could only respond with an unconverted try to Tone Ng Shiu.
The win wasn't enough for England and it was Ireland who qualified second in the pool.
New Zealand opened their tournament with a 21-7 win over Scotland. Tim Mikkelson, Scott Curry and Scott Gregory all scored converted tries before Scotland got on the board through Alec Coombes. However, they lost Vilimoni Koroi who limped from the field with a thigh injury.
Scotland didn't help themselves when conceding nine penalties in the game.
They beat Ireland 34-7 in their second game with Tone Ng Shiu opening the scoring with some powerful fends on Irish defenders. Rapid fire tries were scored either side of halftime by Andrew Knewstubb and Regan Ware while Dylan Collier scored two minutes later.
Ireland replied through Bryan Mollen but Knewstuff and Ware repeated their double fire routine in the final minute.
CONFIRMED! We will take on France in the Cup quarterfinals, kicking off at 10.20pm NZT on @SKYSportNZ channel 056#London7s pic.twitter.com/lG5Uxpq8Kl— All Blacks Sevens (@AllBlacks7s) May 25, 2019