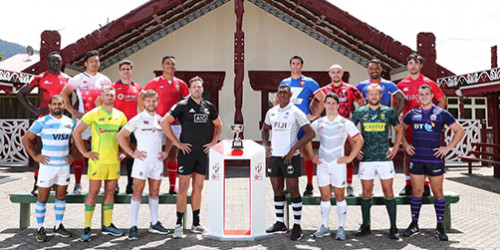 The team is;
1. Scott Curry
2. Tim Mikkelson
3. Tone Ng Shiu
4. Joe Ravouvou
5. Dylan Collier
6. Vilimoni Koroi
7. Sam Dickson
8. Andrew Knewstubb
9. Regan Ware
10. Kurt Baker
11. Jona Nareki
12. Sione Molia

*Scott Gregory is the travelling reserve

Coach Clark Laidlaw said the team was channelling the excitement of playing in front of a home crowd.

"That pressure and expectation is exciting us, it's something we want because we are one of the few teams that get a home tournament and that's a huge advantage.
The All Blacks Sevens team has fond memories of a vocal home crowd from playing in Hamilton last year.

"It was a great crowd, the atmosphere was unreal especially in the quarter and semi-final. It's almost sold out so if the crowd is the same as last year we'll be delighted," said Laidlaw.

The All Blacks Sevens come up against Japan, Canada and Spain in pool play on Day One.
---
KEY INFO
• The All Blacks Sevens last won the New Zealand Sevens in 2016 and have won their home tournament on nine occasions.
• The All Blacks Sevens sit second on the World Series points table – they need to finish in the top four to automatically qualify for the 2020 Olympic Games.
• The All Blacks Sevens currently lead the World Series for most tackles, with 222, 40 ahead of Australia who sits in second. Dylan Collier and Sione Molia are the top two tacklers this season.
• In the season opener in Dubai, Andrew Knewstubb was named Player of the Tournament, was part of the tournament 'Dream Team' and currently sits as the second highest point scorer on the series.
• The All Blacks Sevens are finalists for the Team of the Year and Clark Laidlaw is a finalist for Coach of the Year at the Halberg Awards, winners will be announced next month.

Day Two – Sunday 27 January
Play offs

Broadcast
Watch the HSBC New Zealand Sevens on Sky Sport

2018/2019 Schedule
HSBC World Rugby Sevens Series, 30 November - 1 December, Dubai - WINNERS
HSBC World Rugby Sevens Series, 8-9 December, Cape Town – FOURTH PLACE
HSBC World Rugby Sevens Series, 26-17 January, Hamilton
HSBC World Rugby Sevens Series, 2-3 February, Sydney
HSBC World Rugby Sevens Series, 1-3 March, Las Vegas
HSBC World Rugby Sevens Series, 9-10 March, Vancouver
HSBC World Rugby Sevens Series, 5-7 April, Hong Kong
HSBC World Rugby Sevens Series, 13-14 April, Singapore
HSBC World Rugby Sevens Series, 25-26 May, London
HSBC World Rugby Sevens Series, 1-2 June, Paris

A warm welcome greeted the @AllBlacks7s and @BlackFerns Sevens as Hamilton gets ready for kick off ??

TICKETS ??? https://t.co/FzfyHJa1O2 #NZSevens pic.twitter.com/At3VBgVdrD— HSBC NZ Sevens (@NZ_Sevens) January 22, 2019