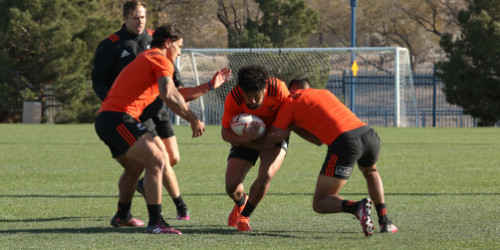 The All Blacks Sevens team is;
1. Trael Joass
2. Tim Mikkelson (c)
3. Tone Ng Shiu
4. Joe Ravouvou
5. Scott Gregory
6. Vilimoni Koroi
7. Sam Dickson
8. Andrew Knewstubb
9. Regan Ware
10. Ngarohi McGarvey-Black
11. Jona Nareki
12. Sione Molia (c)
*Te Puoho Stephens is the travelling reserve.
NEXT STOP: Vancouver ????

The #AllBlacks7s will meet Australia, Spain & France in Pool C#Canada7s pic.twitter.com/UCGlkvLhYj— All Blacks Sevens (@AllBlacks7s) March 4, 2019
Andrew Knewstubb and Ngarohi McGarvey-Black have joined the team in Vancouver and replace the injured Akuila Rokolisoa and Kurt Baker who have returned home.
Knewstubb has impressed this season to date and before missing the Las Vegas tournament last weekend, was the Series leading points scorer. McGarvey-Black comes into the team after last playing in Cape Town in December.
All Blacks Sevens Coach Clark Laidlaw said the quick turnaround made it an easy decision to bring in fresh legs.
"We expect Andrew and Ngarohi to come in and add a lot. Andrew is having a break-through season and playing bloody well, Ngarohi debuted this time last year in Las Vegas, the indoor stadium here in Vancouver is a fast track and that suits his game."
The All Blacks Sevens finished third last weekend in Las Vegas, dropping the semi-final to eventual winners USA.
"We thought we played extremely well for most parts of the weekend. Against USA we gave away a few cheap penalties which allowed them to get momentum at end. We are frustrated to lose that semi-final the way we did but we are confident in where our game is at."
Now sitting second on the World Series, Laidlaw said the focus is getting back into the number one position.
"That's our focus, to win the World Series. But we are realistic that USA are playing some awesome rugby and we have huge respect for the way they are playing the game. We think we are playing with some consistency, but we need to step that up."
The All Blacks Sevens will face France, Spain and Australia in pool play.
STAT CHAT:
• The All Blacks Sevens won the inaugural Canada Sevens in 2016 with a 19-14 victory over South Africa in the Cup Final.
• The All Blacks Sevens sit second World Series points table behind USA – they need to finish in the top four to automatically qualify for the 2020 Olympic Games.
• The All Blacks Sevens currently lead the World Series for most tackles, with 533, more than 60 ahead of England who sits in second.
• All Blacks Sevens co-captain Sione Molia currently leads the DHL Performance Tracker this season as the player making the most impact on the field throughout the season.
SCHEDULE: (dates and times in NZT)
Day One – Sunday 10 March
7.14am v France
10.43am v Spain
2.15pm v Australia
Day Two– Monday 11 March
BROADCAST
Watch the HSBC Sydney Sevens on Sky Sport pop up channel 2
SCHEDULE
HSBC World Rugby Sevens Series, 30 November - 1 December, Dubai – WINNERS
HSBC World Rugby Sevens Series, 8-9 December, Cape Town – FOURTH PLACE
HSBC World Rugby Sevens Series, 26-27 January, Hamilton - THIRD PLACE
HSBC World Rugby Sevens Series, 2-3 February, Sydney - WINNERS
HSBC World Rugby Sevens Series, 1-3 March, Las Vegas – THIRD PLACE
HSBC World Rugby Sevens Series, 9-10 March, Vancouver
HSBC World Rugby Sevens Series, 5-7 April, Hong Kong
HSBC World Rugby Sevens Series, 13-14 April, Singapore
HSBC World Rugby Sevens Series, 25-26 May, London
HSBC World Rugby Sevens Series, 1-2 June, Paris
DAY 3 WRAP | #AllBlacks7s go down to eventual tournament winners, picking up valuable Series points with third place finish.

READ ?? https://t.co/XoZ1prqmAf#USA7s pic.twitter.com/ni9R34UpxA— All Blacks Sevens (@AllBlacks7s) March 4, 2019