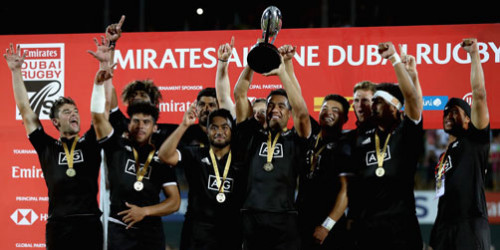 Beating the United States of America 21-5 in the final, they had only nine fit players to call on with co-captain Scott Curry out of action along with Regan Ware, Sam Dickson and Akuila Rokokisoa, The New Zealanders had beaten the USA 24-7 in pool play.
---
Earlier, on finals day they needed all their defensive ability to beat England 7-5 in their semifinal.
In the final Tone Ng Shiu was first to score, midway through the first half with Andrew Knewstubb adding the extras. Luke Masirewa was sin-binned in the second half for a high tackle and Stephen Tomasin scored for the USA.
But the All Blacks' response was quick and when a USA knock-on provided a chance for a lineout, the New Zealanders took it quickly and Dylan Collier had too much speed to run in the try.
The USA were guilty of having eight men on the field at one time in the second half and New Zealand used the penalty to go deeper in the American half and Ngarohi McGarvey Black took the chance to finish the game with a try. Knewstubb was named player of the final.
Sione Molia said afterwards, "It was really unfortunate [the injuries] but we knew that we had to get our heads down and start working.
"We knew that we were coming into this final against a good USA team. The boys put in an unreal shift, I'm really happy," he said.
Knewstubb said: "There wasn't much said [before the final]. You just look across at your mates there, they look at you, and you just connect on the field."

Sit back and enjoy as the #AllBlacks7s celebrate that Cup Final win with a HAKA!#Dubai7s pic.twitter.com/lpkXoEHHat— All Blacks Sevens (@AllBlacks7s) December 1, 2018
The USA qualified for the final when beating Fiji 24-14 in their quarterfinal and then beating Australia 22-17 in the semis.
England, who had eliminated South Africa 22-5 in their quarterfinal, looked to have scored first but were called back for a knock-on earlier in the move and New Zealand responded when Vilimoni Koroi broke out of their territory.
Another knock-on by England, under intense defensive pressure resulted in a scrum for New Zealand allowing Tone Ng Shiu to score and with Andrew Knewstubb's conversion to take a 7-0 lead to halftime although Koroi's high tackle resulted in the team finishing the half with six players.
That proved costly at the start of the second half when Tom Bowen put his step and acceleration to use to put England back in the game.
A knock-on by Black in mid-field provided an attacking chance for England but outstanding All Blacks Sevens defence denied them. That defence continued for nearly four minutes until it appeared Harry Glover had scored with 90 seconds left, but he was found to have brushed the sideline.
The two teams were determined to keep their chances alive and it was two minutes 27 seconds before Scott Gregory won a penalty at the breakdown to relieve the pressure and secure the win.
New Zealand started their day with a 21-7 win over Scotland with tries to McGarvey Black, Amanaki Nicole and Knewstubb.
Your 2018/19 @Dubai7s CHAMPIONS ??#Dubai7s pic.twitter.com/nc5neE9jla— All Blacks Sevens (@AllBlacks7s) December 1, 2018