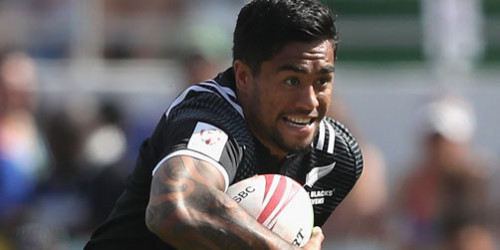 The New Zealanders will be playing in the second Hamilton tournament in the competition, starting on Saturday, and it would be a case of seeing whether the side would stand up to the pressure or take a step back from it, he said.
---
QUICK TAP: IT STARTS ALL OVER AGAIN FOR THE ALL BLACKS SEVENS - LAIDLAW
---
It was almost like a home tournament for him and it meant he was able to have more family at the event as it was only a hour's drive from his home town Tokoroa.
It was also memorable having the crowd behind you and he said he often looked back to last year's 12-14 semifinal loss to Fiji and how 'wicked' the atmosphere was.
"I think half the crowd was chanting 'All Blacks', and half the crowd was chanting 'Fiji'. You can't even hear in the stadium. We were sign languaging things to other players and atmosphere like that is what we thrive on and hopefully we can get the same turnout this year," he said.
Jona Nareki has mixed feelings for FMG Stadium after being part of a winning Otago Ranfurly Shield challenge last year and that memory would be a help for him during the tournament at the weekend.
However, he was also wary of shattering a testicle during the game and then having to take the field as a replacement and paying through the pain, winning a place in New Zealand rugby folklore.
Putting the final touches together ??#NZSevens pic.twitter.com/O00BbhKDnx— All Blacks Sevens (@AllBlacks7s) January 24, 2019
It will be the first time he has played for the side in New Zealand and that meant everything to him.
"It's something I've always wanted to do and it's more special now that Mum and Dad will be watching is the one thing that's making me try to do my best," he said.
Having experience coming back into the squad for the week had made the team more connected than for some time.
"The vibe and culture that we've brought after the Christmas break is definitely something that I've noticed, there's more singing, and the singing brings us together but with the leadership group and what they've done it is a credit to the coaching group," he said.
The Christmas break had worked out well because when they returned players were achieving best marks and that reflected not only their fitness but also the work that had been going in during the break.
"It was a positive thing to come back fit," he said.
Playing in front of a home crowd was more of a challenge than pressure as the team were wanting to make a statement, he said.
1? DAY TO GO!

Don't be that person who misses out on tickets ?? https://t.co/FzfyHJa1O2 pic.twitter.com/TyOr8Wsov3— HSBC NZ Sevens (@NZ_Sevens) January 24, 2019