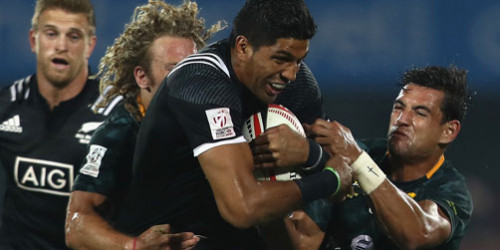 Laidlaw said it was good to have Dylan Collier and Trael Joass back from the injuries they sustained before Christmas while Andrew Knewstubb had recovered from concussion and new cap Ngarohi McGarvey-Black would be getting his opportunity.
---
QUICK TAP: ALL BLACKS SQUAD NAMED FOR LAS VEGAS
---
"Dylan played really well in Dubai and Cape Town and had worked really hard in pre-season but he picked up a little bit of an Achilles injury that he struggled to shake so that's really good news for us.
"He's a physical player in the air around kickoffs with a lot of experience so it's good to have him back," he said.
McGarvey-Black was an exciting prospect who was skilful with a good passing game complemented by a good running game and good footwork.
"He's quick and he kicks well so he is a real triple threat when he gets the ball in hand and really it is about getting him alongside us for these two weeks and seeing how he prepares in a tournament week and if he gets an opportunity to play I think we're all excited to see how he goes," he said.
While it will be Laidlaw's first time as head coach in Las Vegas he is familiar with the event having been there twice before and he was aware the field was a little smaller which resulted in more contact and the New Zealanders had been preparing for that.
"From watching from afar over the last couple of years it has really grown with crowd numbers and excitement around the tournament. Las Vegas is a pretty cool city so we're all looking forward to getting there and getting settled in next week," he said.
Laidlaw expected the narrower field would make the pool games against Uruguay and Argentina especially difficult.
"Argentina are one of the form teams this year, they're the biggest improvers and they've played some really good rugby. Scotland were tricky in Hamilton and it took us a little while to wear them down.
"So we're under no illusions how tough that will be and playing a team that you haven't played previously and you've got no good footage of puts you on edge I suppose for that first game against Uruguay," he said.
Collier had been hopeful of getting back for the Hamilton tournament but things hadn't worked out so Las Vegas was his next goal.
"I've been training fully for the last couple of weeks so I managed to get myself back in there so I am very happy with that," he said.
It was the last two tournaments before the Commonwealth Games and being involved in the two would be a chance to get some good game time in, Collier said.
NEWS | Clark Laidlaw has named the #AllBlacks7s squad to travel to Las Vegas and Vancouver for the upcoming @WorldRugby7s Series.

READ: https://t.co/Ql5k1ldPpG#USA7s pic.twitter.com/Mpb3pC4Lxy— NZ7s (@nz7s) February 21, 2018