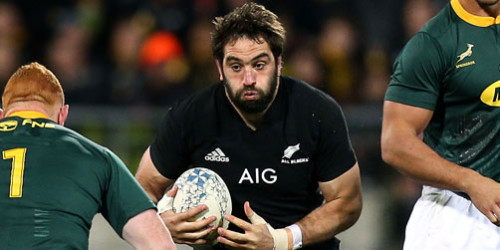 Lock Sam Whitelock said a 3-0 whitewash of Australia was something the All Blacks were attempting to do.
---
QUICK TAP: JAPAN TEST SPECIAL FOR WALLABY SEKOPE KEPU
---
"It's been a couple of weeks since we played them last and both teams have probably improved from where we were at the start of the year," he said.
Since playing Australia in the first two games of the Investec Rugby Championship, New Zealand had taken some lessons from subsequent games, especially the Wellington loss to South Africa.
"We had a really good review and we've taken some things that are hopefully going to grow our game," he said.
Hooker Codie Taylor said they were expecting a typically combative approach from the Wallabies.
"They may have lost some games in the Rugby Championship but whenever they play us you can tell they really back themselves to beat us and it's our challenge to go out there this week knowing that we've played them twice and been successful in those games to do it again in the third one.
"Last year we didn't nail it and that's what happened, we lost so that's our challenge and we're just looking forward to getting stuck into them again," he said.
Whitelock said he would be making some decisions after the northern tour on his prospective playing future post the Rugby World Cup.

He had been to Japan previously through promotions and playing with New Zealand Universities so he understood how rugby operated there but he was concentrating on playing in Japan first with the All Blacks.
"It's a massive week this week; we all know what happened last year so I'm excited for this week ahead," he said.
Taylor said after two weeks off he was feeling good after what had been a long season for all the side through both their Super Rugby and Championship seasons. All the players had come back together excited about the northern tour.
"It's a great opportunity for us as a team to see where we're at in terms of playing some northern hemisphere teams," he said.
One of the lessons of their last experience playing a Test at a neutral venue, the 2016 loss to Ireland in Chicago, had been to avoid distractions and Taylor said they had arrived early in Japan but on Sunday they had switched into normal Test mode.
"Today it definitely feels like that, we're ready to face an Aussie team that will be up for the challenge," he said.
Taylor said it was noticeable from the amount of energy brought by players who had been out for long periods with injuries like front rowers Dane Coles, Joe Moody and Nepo Laulala how much they were enjoying being back.

pic.twitter.com/D2AtKFMsqr— All Blacks (@AllBlacks) October 22, 2018
"They're players that have got a lot of experience and they can add something to the squad and that's going to be much needed this week and against Japan and going on to Ireland and England, experience is definitely going to be needed for those games," he said.
Whitelock said Coles was probably feeling a little nervous having been out of action for so long but he would typically bring some edge and there would be some excitement at training.
Taylor said his relationship with Coles had not changed in the time Coles was out. They were both Horowhenua boys and had great respect for each other. Coles and Keven Mealamu had looked out for him when he joined the All Blacks and now it was a case of helping Coles get up to speed with the changes that have occurred in how the All Blacks are attempting to play during Coles' absence.
"It's a great chance for me to give that back to him and when he gets his chance, he'll be ready to go," he said.
The Japanese treatment of the All Blacks had been outstanding. People were prepared to do anything for the side, the food was amazing while the experience of another culture had been enjoyable, Taylor said.
Settling into ????

?? = Karl Tu'inukuafe pic.twitter.com/si6YIBs9ez— All Blacks (@AllBlacks) October 21, 2018