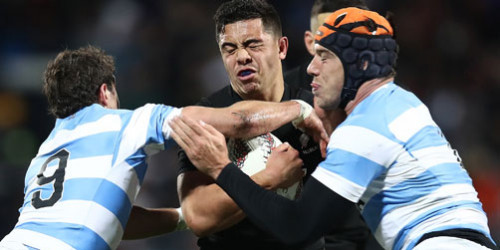 While it is not the first time Nelson has hosted Test matches, it staged three World Cup games in 2011, it is the first time the All Blacks have played a Test there.
---
All Blacks forwards Owen Franks, who is from the Tasman region, and Brodie Retallick are both expecting improved Argentine performances in their areas of interest in the scrums and lineouts.
Franks said: "They take real pride in their set-piece. You saw against Africa they kept the ball in a couple of times in their scrum when they had the ascendancy."
It appeared they were trying to reassert themselves with their scrum and they could never be under-estimated. He recalled that in 2012 their scrum went to a new level when he perhaps hadn't given them the respect they deserved and had paid for it.
"So they're never a pack I will under-estimate. They love their scrummaging, they love their forward play. They're big strong guys, it's a big challenge," he said.
Retallick said from a lineout perspective the Pumas were big men and in the past the All Blacks had backed their speed to get on top of them but from what they had seen in the Championship so far they had become very explosive.

Team All Blacks are giving you the chance to raid the All Blacks changing room and get your hands on up to $1000 worth of gear!

To enter, buy tickets to the All Blacks v South Africa match in Wellington on September 15th.

BUY NOW ?? https://t.co/WTcp2PS8yQ pic.twitter.com/6MuKCIjvY1— All Blacks (@AllBlacks) September 3, 2018
"They chuck their jumpers outrageously high into the air so they've obviously put a lot of work into that especially defensively trying to cut off ball so again we're going to have to be sharp in that department," he said.
The All Blacks philosophy at the lineout was like running a race, the fastest person won.
"If you're explosive and fast off the ground, with a good lift, then 99 percent of the time you're going to get to the top before they do. So that's certainly the philosophy we take that if we can win the race to get off the ground and into the air we should be winning the ball," he said.
Defensively, they had the option of mirroring the Pumas actions in the lineout or working in pods to contest the ball when the hooker threw the ball in. Argentina had great success with the latter against South Africa and they had been a lot better than they had been for some time, he said.
Argentina had shown how effective their scrambling defence was when South Africa made line breaks which revealed a team that was willing to work for each other, Retallick said.

It's going to be a HUGE match in Nelson this weekend as the #AllBlacks take on Argentina ????

??? Tickets are still available. We'll see you there! ?? https://t.co/bAxyRd1mr8 #TeamAllBlacks #NZLvARG pic.twitter.com/6o0VsFLt3J— All Blacks (@AllBlacks) September 3, 2018
Franks said while he grew up in the region going to Nelson was like going to the big smoke from his Motueka base. He didn't play rugby in Nelson that often and it was most often during the 2011 season when the Crusaders' Christchurch base was unavailable due to the earthquakes.
More family than usual would be attending the game as it wasn't that often he got to play so close to his home town, he said.
"I love Nelson, you almost feel like you're in a different country, it's real relaxed," he said.
The venue, while down on usual Test numbers, would be more intimate with the crowd closer to the players and Franks said he enjoyed that element.
Retallick said it was refreshing to play in a city outside of the usual circuit of Test match venues. The difference was obvious from the moment of arrival with greetings at the airport and while walking around the city, people were friendly and excited about the fact the Test match was on.
MONDAY MEMORIES ?? Ahead of the #AllBlacks v Argentina clash in Nelson this Saturday we take you back to 2006 when the two sides met in Buenos Aires with the All Blacks winning 25 - 19.

Tickets are still available to this weekends match ?? https://t.co/62ePOZvQAx#NZLvARG pic.twitter.com/2ECQchNl1J— All Blacks (@AllBlacks) September 2, 2018