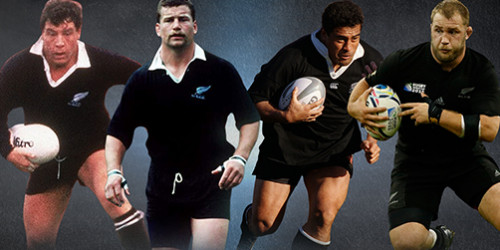 Fan voting is now open to decide who takes the tighthead prop position in the All Blacks All-time Rugby World Cup
We have analysed every All Blacks Rugby World Cup campaign from 1987-2015 to select four players in each position, now it is up to the fans to select the final team.
Who will you select as your tighthead? The finalists are:
Owen Franks (2011, 2015)
The starting tighthead prop in both the 2011 and 2015 Rugby World Cup finals, Owen Franks is a bona fide World Cup legend. Immovable at scrum time and punishing on defence, Franks was a key cog in the All Blacks successful campaigns. He played 13 out of 14 matches throughout both tournaments and was joined by brother Ben as a recipient of a winner's medal.
John Drake (1987)
The pinnacle of John Drake's career was the 1987 World Cup. The powerful prop played five of his total eight Tests during the tournament. He provided a steel and resolve to the All Blacks pack that many pundits thought may have been lacking pre-tournament. Drake even barged over for a try in the semifinal against Wales to ensure that his name featured on the score sheet.
Olo Brown (1995)
Arguably the greatest scrummager the All Blacks have ever seen, Olo Brown was at the peak of his powers at the 1995 Rugby World Cup. Together with front row partners Sean Fitzpatrick and Craig Dowd, the All Blacks scrum was an unrelenting force at the 1995 tournament and laid the platform for Jonah Lomu, Jeff Wilson and Glen Osborne to showcase their attacking abilities out wide.
Richard Loe (1987, 1991, 1995)
Richard Loe made his Test debut in the very first Rugby World Cup game in 1987 between the All Blacks and Italy. He went onto play one more game in the tournament before returning as the All Blacks first choice tighthead prop at the 1991 World Cup. In 1995, Loe was back as wily 35-year-old veteran. He played two games in 1995, and even crossed for a try in the 145-17 victory over Japan.
VOTE BELOW: