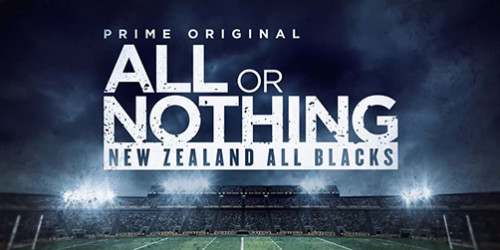 The six-episode season, narrated by Taika Waititi (Thor: Ragnarok), embeds a film crew with the All Blacks, one of the most successful teams in global sports history.
---
QUICK TAP: ALL BLACKS v FRANCE - A RIVALRY IN NUMBERS
---
For the first time ever, the All Blacks allow cameras to join them as they face the formidable British & Irish Lions in a showdown that comes around only once every 12 years and battle for the 2017 Investec Rugby Championship.
The series offers exclusive access to one of the most dominant teams on the planet during one of their most challenging and talked about seasons, taking Prime members inside the locker room, on the field, and into the lives of head coach Steve Hansen and the players.
As the series begins, the team faces a daunting road ahead following the retirement of superstar veterans. With the pride of New Zealand resting on their shoulders, they must band together to face the physical demands of rugby, the critical eye of their fans and the media and the challenges of family and fatherhood all while vying to maintain a century-long legacy of dominance in the sport.
This All or Nothing series shares the creative excellence that the All or Nothing brand has come to be known for, led by the Emmy-winning NFL series and including All or Nothing: The Michigan Wolverines and All or Nothing: Manchester City. Hallmarks of the brand include unprecedented access to a team's entire season, character-driven storytelling and compelling visuals.
All or Nothing: New Zealand All Blacks is produced by Mother Media Group in conjunction with Warner Brothers New Zealand and Pango Productions, and Executive Producers Eden Gaha (The Biggest Loser, Masterchef), Greg Heathcote (Survivor New Zealand, The Block NZ) and Bailey Mackey (Angelo's Outdoor Kitchen, Sidewalk Karaoke). John Dorsey (Visions of Greatness, Urban Cowboy: The Rise and Fall of Gilley's) is co-Executive Producer.
Prime members will be able to stream all series exclusively via the Prime Video app for TVs, connected devices including Fire TV, mobile devices and online at http://www.amazon.com/allornothingallblacks. Members can also download the series to mobile devices for offline viewing at no additional cost to their membership.
The series will be released globally and available on PrimeVideo.com for Prime Video members in more than 200 countries and territories.
Customers who are not already Prime members can sign up for a free trial at www.amazon.com/prime. For a list of all Prime Video compatible devices, visit www.amazon.com/howtostream.