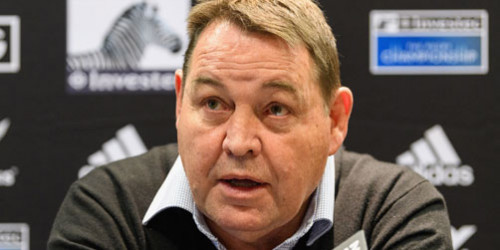 Gone from the initial squad of 39 named for the Investec Rugby Championship are: flankers Shannon Frizell and Dalton Papalii, first five-eighths Josh Ioane, hooker Asafo Aumua and prop Karl Tu'inukuafe.
---
QUICK TAP: 50 THINGS TO LOOK FORWARD TO AT THE RUGBY WORLD CUP
---
Coach Steve Hansen said in announcing the new squad, the chances for players to now break into the World Cup squad were harder because the selectors were at the stage of narrowing the side down.
Rather than being concerned, in a negative sense, about any positions, he said, the concern was more with the number of good players who were available in some positions.
Midfield was a case in point where six players were available for four positions. All of them were exceptionally good players.
Hansen explained in relation to Sonny Bill Williams, named in the squad but only available for the second Test of the two against Australia, that the selectors had a lot of respect for his ability. He had played 52 Tests and they knew he could play at that level but the unfortunate thing was he hadn't been playing much in 2019.
"We wanted to see him on Saturday being able to cope with the rigours of Test football, which he did so that's a big tick but to judge him at the very highest level when he's had no football is not fair.
"So what we've asked him to do is go and play a couple of games for Counties Manukau which will give him three games in three weeks and then look to see what we are going to do in Auckland and if he was to play there that would be four games in four weeks.
?? WORLD CUP WATCH | Don't underestimate hosts Japan! They've been building for three years and training as a team for six months. Hear from assistant coach Tony Brown on the Breakdown.

Watch @SkySportNZ's full episode of the Breakdown ???? https://t.co/RJgi3YGR3o#RWC2019 pic.twitter.com/iezt6NznV0— All Blacks (@AllBlacks) July 31, 2019
"We'll watch and see what's happening at Counties and then we'll watch and see what happens in Auckland," he said.
"And then everyone gets judged fairly and whatever combination of four we come up with everybody has had an opportunity to say, 'I've had a fair go'. And each every one of them deserves that," he said.
Blindside flank was another where several people had put their hands up and it was a case of settling on the right combination.
Another area was the propping stocks where Tu'inukuafe missed the cut this time.
"It's not that he's done anything wrong. We've said that we want mobile, ball playing props who can also do their core roles. We're still pretty keen on Atu [Moli] and I guess there's only room for six [props] there, and at the World Cup we can only take five, so we've still got some culling to do," he said.
In relation to lock Brodie Retallick's dislocated shoulder, Hansen said there were two things that could happen. One was bone damage, which hadn't occurred, and the other was ligament damage which they expected there would be some and how well that settled down would determine how quickly he could return.
Favourable reports had been received after the most recent scans on the arms of Scott Barrett, Ryan Crotty and Tim Perry. Of them Barrett was likely to be available for consideration for the first Bledisloe Cup game.
The role of utility back has Braydon Ennor and Jordie Barrett facing the heat and Hansen said of the younger Barrett: "Jordy's a 22-year-old who's in a hurry, no matter what he does, he's in a hurry and we've just got to get him to settle down and be patient.
"When he plays a game patiently he's very, very talented. He's got a lot of skills, he comes with a great kicking game. He can punt the ball a mile, he can kick it off the tee a mile, he's a good defender and it's just a matter of him, and us, and whoever is coaching him being patient and taking our time and getting him to be able to execute those things to the highest level that he's capable of and not allowing frustration of what is happening around him, be it on the park or be it through selections…once you try to force things you become a little erratic.
"He's a very, very good player and as I said he's 22 so by the time he gets to 24 or 25 he's going to be an outstanding player," he said.

Air All Blacks... it's got a nice ring to it ?? #CrazyAboutRugby #AirNZSafetyVideo pic.twitter.com/fHsVFKEtN4— Air New Zealand?? (@FlyAirNZ) July 31, 2019