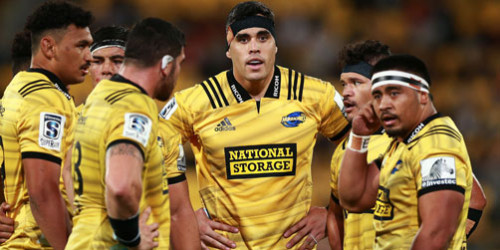 Having played the Highlanders so recently and having been lucky to come out of it with a win, the pressure would be on the pack to maintain the improvement they showed against the Crusaders last week.
---
QUICK TAP: HIGHLANDERS KNOW WHAT HURRICANES WILL BRING
---
Coach John Plumtree said the Highlanders had exerted some genuine pressure on the Hurricanes pack in their first game and he had been onto his fellow coaches and scrum leaders to lift the effort in that part of the game, and it would be necessary on Friday against one of the best scrums in the competition.
Plumtree said the performance against the Crusaders had been a little strange for them because they had been struggling with their set-piece and territory and possession. They had all of that last week but couldn't score tries.
"There was a mixture of things why that happened or didn't happen, so we've addressed some of that and chasing the game against the Crusaders in the second half is not the best way to go. We've been down that road a couple of times since we've played them.
"On the last three or four occasions they've had a bit of wood on us. It was really disappointing because the forwards played so well," he said.
PREVIEW | Round eight kicks off with a blockbuster NZ derby between @Highlanders and @Hurricanesrugby on Friday night. Get the scoop on the clash ????????????https://t.co/P3r6QAAQg8 pic.twitter.com/dVsRvJpLMn— Super Rugby (@SuperRugbyNZ) April 3, 2019
The Highlanders on Friday would be similar with their big pack and it would be a case of the Hurricanes fronting up to create opportunities and to score tries.
Jordie Barrett is at centre for the game. Usual centre Matt Proctor had played every game and took a bad knock to his knee against the Crusaders. He trained all right on Wednesday and would be able to come off the bench.
"We know Jordie enjoys it in the midfield, he gets plenty of ball so it will be interesting to see how he goes," he said.
Hooker Dane Coles had never been considered for the game and with the bye next week it gave him more time to recover from his calf strain.
Plumtree said Kane Le'aupepe had been a nice surprise since being called up from the Bay of Plenty as injury cover at lock. He had only been with them for 10 days and had fitted in to the environment well.
The Hurricanes locks had carried a heavy workload through the competition and Plumtree was looking forward to seeing what he could offer the side.
"He looks like a pretty talented player," he said.
THROWBACK | The @Highlanders v @Hurricanesrugby blockbuster clash is just around the corner, so we're taking you back to this classic match from the 90's. Do you remember this match?

??? Get your tickets to this Firday night's match here ?? https://t.co/GJn2Wc3FrH pic.twitter.com/u8TW65M1E9— Super Rugby (@SuperRugbyNZ) April 3, 2019