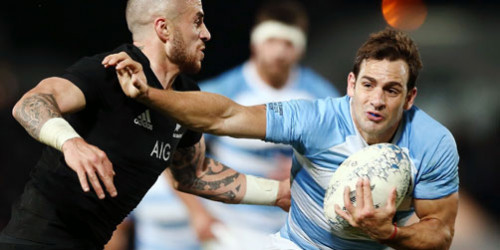 First five-eighths Sanchez, who broke Felipe Contepomi's points scoring record in the first clash between the two countries this year in Nelson has extended his tally to 667 points and with an expected move to Stade Francais later in the year, Sunday could be his last chance to achieve the goal.
---
QUICK TAP: MARLER OUT, MURRAY IN DOUBT VS ALL BLACKS IN NOVEMBER
---
The requirement to beat the All Blacks was basic, he told La Nacion.
"We have to think about going ball to ball, playing each ball as if it were the last, and not thinking beyond, trying to be calm.
"We have to play them a lot like we did in New Zealand, play with our feet and make them uncomfortable and we have to improve our defence 100 percent if we really want to push them hard," he said.
While the defence had been vulnerable in Nelson it had improved when they achieved their win over Australia a week later on the Gold Coast. The forwards had played well also and they made good exits from defensive positions and they would need to continue to improve in those areas, he said.
Sanchez said Argentina had achieved their success this year because of the work and effort they had been putting in since the start of the year. But with their two wins to date they had to keep redoubling their efforts.
"The coaches made it clear that there is a lot to improve and we still have a lot to do to be the team we really want to be," he said.

"We saw in Nelson how hard it was, right across their back-line they are all skillful players." #AllBlacks midfielder Ryan Crotty is aware of the challenges that Argentina can bring.

READ ?? https://t.co/CvQGKFwKkq pic.twitter.com/KJsczJ3WZW— All Blacks (@AllBlacks) September 26, 2018
The arrival of coach Mario Ledesma had been central to both Sanchez' improvement and that of the side.
"Since the beginning of the year [with the Jaguares], having such a clear game system helped us a lot, because everyone knows what they have to do. The mood of the team also helps a lot, the mood of all the players, of the staff, that is very good and it spreads quickly," he said.
What Ledesma had done was bring some good, and different, ideas.
"But above all he put some key pillars in the team, such as work, sacrifice. What the coaches pointed out to us is that they want a team that does not have excuses and that only works. That was the message from the first day and it serves us a lot," he said.
The All Blacks team to take on Argentina is named at 5pm Thursday.
How do the #AllBlacks like their steak? Find out from some of the team as they sample some of the local cuisine in Buenos Aires. ???????#TeamAllBlacks #ARGvNZL pic.twitter.com/o7Ra6Tbi9s— All Blacks (@AllBlacks) September 26, 2018