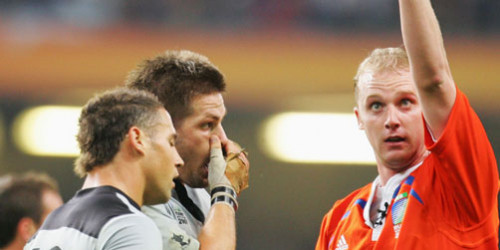 Barnes, 39, was speaking to BTSport.com in England about his career ahead of his 212th Premiership game at the weekend.
---
QUICK TAP: THE STORY BEHIND JASON MOMOA'S ALL BLACKS JERSEY
---
The try, resulting from Frederic Michalak's forward pass to Yannick Jauzion who scored, proved the difference in the All Blacks' 20-18 loss and saw them record their worst World Cup performance.
The fallout from the mistake had been 'pretty huge', he said.
"I think I was voted the third most-hated man in New Zealand that year so it was pretty impressive!
"As a referee you never want to be in the headlines and whenever you are, whether you're right or wrong, that's not what you're there for," he said.
Barnes said as a referee he was trying to improve week-on-week and he said in every game there were decisions that he would do differently.
"You look back at your game each week when we get into Twickenham on a Monday or Tuesday and we're always reviewing, we never have a faultless game," he said.
At the same time Barnes said games involving the All Blacks had also seen some of the best moments in his career.
He said during November's game between Ireland and the All Blacks in Dublin he had looked around and felt it was something special.
"There was something very special before the match and obviously during the match. There was a real sense of occasion to that game," he said.
Asked if there was one rule he would change Barnes said the maul.
"At the moment, if the ball doesn't come out it gets turned over, which encourages people to lie on top of the ball. I'd look at a way of encouraging the ball in play around that area," he said.
Barnes said former England captain and lock Martin Johnson had been the most challenging player to referee. Johnson was at the end of his career when Barnes started refereeing and said he was always petrified of him.
"I remember I had to sinbin him once and I actually apologised as I did it. I said, 'I'm very sorry to have to do this' because he's such a big personality. I guess he was always someone who scared me witless!"
NEWS | Two former @BlackFerns among New Zealand representatives on @WorldRugby Awards panel for 2019.

READ ???? https://t.co/WlVNkkaQC7 pic.twitter.com/Ko7LttzbUI— Black Ferns (@BlackFerns) March 20, 2019