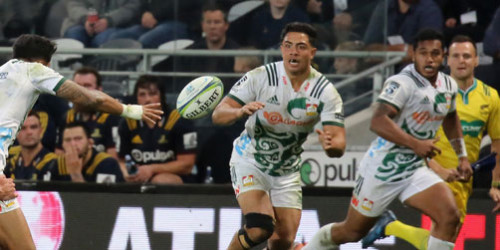 With locking strength hardest hit the Chiefs rearranged their loose forwards as a result of usual No.8 Tyler Ardron having to move into lock this week. Luke Jacobson, who had been covering No.8 will move there from the blindside while Jesse Parete, who has played No.8 will move to have a blindside start.
---
Assistant coach Nick White was confident nothing would really change in the way they played the game while Mitchell Karpik was back from injury and able to start at openside in place of the injured Lachlan Boshier.
"I think they'll be a good combination," he said.
They knew they would be in for a contest from the confident Sharks who stand to complete an unbeaten tour by achieving a win over the Chiefs.
"They're pretty brutal, they're a big, physical, ball-carrying pack. They're pretty direct, and they just get their good go-forward and once they've got some go-forward they let it go to their backs," White said.
"So it's going to be a massive challenge for us, not only just in their loose forwards but their whole pack. They'll be coming off a bit of a high last week even though they got the draw they played very well, so they'll see it as another opportunity to finish their tour on a high. It's really important we front up in that area, that's for sure."

SAY MY NAME ?? Fortnite, Razzle, Wise, The Hitman Mountaineer...

Just some of the nicknames floating around the #SuperRugby teams ??#SayMyName pic.twitter.com/JjhhUzSrVT— Super Rugby (@SuperRugbyNZ) May 9, 2019
With so much emphasis being applied to scrums in recent weeks by referees, he said the main emphasis for the Chiefs had been being good and tidy.
"They are a challenging scrum to scrum against the South African sides. They scrum a little differently to how we do it so we've got to make sure we take care of it at our end and we scrum well together as a pack. They pose different challenges and if we're not switched on we'll end up in the same boat," he said.
Prop Atu Moli, who has been plagued with injuries over the past two seasons, was getting back to his best but still had more to give.
"He's doing well, he's pretty mobile round the field, he's aggressive, he's just still finding his feet at scrum time so he's just going to get better and better."
The Chiefs wouldn't be looking to get into a wrestling match with the Sharks and it would be a case of cutting them down at grass level to put them on the ground.
"And the other thing for us is when we've got the ball, hold onto it. Because at the moment we're just giving away too many turnovers. And whether it's the Sharks, or any team, if we keep doing that, we just make life so hard for ourselves," he said.
The Chiefs had given away nearly 20 turnovers last week and they couldn't afford to do that against the Sharks.
Gallagher Chiefs VS Sharks ??
? ?
?? Saturday - 7:35PM
?? FMG Stadium Waikato

READ MORE: https://t.co/P1zAoOsRDt
? ?#CHIvSHA #ChiefsMana pic.twitter.com/tDdRd2IE95— Gallagher Chiefs (@ChiefsRugby) May 9, 2019