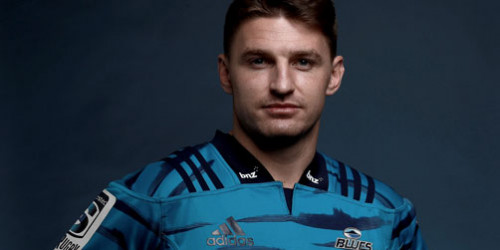 But All Blacks first five-eighths and two-time World Rugby player of the year Beauden Barrett became the highest profile rugby player of recent times to reverse the trend.
Barrett and his wife Hannah will base themselves in Auckland where he will play for the Blues as part of his four-year contract renewal with New Zealand Rugby.
Barrett, who had been the subject of rumour as a possible transferee to Auckland earlier in the year, said he had ruled out going overseas because he felt that deep down he wasn't ready to go.
Barrett said there were many reasons for his decision.
"It's a big move to sign anywhere for four years. I knew I wasn't ready to go offshore and I know I have plenty left in the tank and plenty to give to New Zealand rugby. We worked back from there and figured out what would be the best thing for me, and for my family and my rugby," he said.
The decision had been tough because the negotiations were continuing while he was wanting to keep his focus on the job with the Hurricanes but in the back of his mind was the contractural meetings.
"But it was then a case of putting that aside while training.
"The Hurricanes will always be a huge part of my life, and without them I wouldn't be the player or person I am today. I'm leaving a lot of very good friends, not just in the game but outside of the game in Wellington.
"I've kept it close with TJ [Perenara] throughout the process. I told him and [Dane] Colesy a couple of days ago which was very difficult. We got there and they're fully supportive of my decision as good mates," he said.
Convincing his father Kevin, one of the early Hurricanes who played for the side in 1997-99, had been tough, however, he felt if that was what he and his wife wanted to do then that was for the best.
"I grew up dreaming of being a Hurricane, so I'm proud to have played the amount of games I have for them and they'll always be a huge part of my life. But circumstances change and people grow older and move on," he said.
"It's a new chapter in my life, and our life, and one I am really looking forward to," he said.
The challenge with an under-performing Blues side was obvious but he felt it was a challenge he was ready for.
"I see huge potential with the Blues. They've had a lot of narrow losses this season and I understand they have figured out why and they are working hard on how they are going to fix those," he said.
"Wherever I go I'll have my own standards. I'll continue to try to be the best player I can, and if I can add to what the Blues want to do, ultimately get better and win championships, then that's what I'm there to do.
"I've been around a while. I know how to influence players around me, I know how to be demanding on players, and tell them what I expect of them," he said.