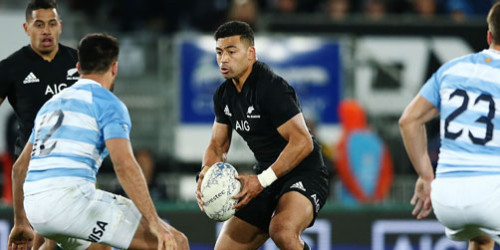 All Blacks coach Steve Hansen told the post-game media conference that it they had wanted to get a win and a bonus point, they had achieved that while they also got the opportunity to blood some young men who were put under pressure by a good Argentinian side.
"I thought they played particularly well at times and put us under pressure so we had to show a lot of mental fortitude. We let in three tries so some of our defensive work at times wasn't as good as it could have been.
"I really liked their response, every time they scored we came back. We showed a lot of strength of character I think. It wasn't a perfect performance by any stretch of the imagination," he said.
However, loose forwards Ardie Savea and Shannon Frizell had both played 80 minutes, they lost players early which was unexpected and affected how they could use the bench later in the game. And with that in mind they had done well, he said.
It was always going to be a tough debut for first five-eighths Richie Mo'unga because Argentina were a tough side to play. But Hansen felt Mo'unga 'did ok'.
"There's parts of his game that he won't be happy with and I'm sure the next time he gets to pull the black jersey on, which he'll get another opportunity for sure, he'll get better, and better, and better for it.
"It's a very difficult position to come in and be linchpin. He was ok, we're happy enough with him," he said.
Assistant coach Ian Foster said it was important for Mo'unga to sit back and take some satisfaction from his first Test start, it was a good win and he had done 'a heck of a lot of right things'.
But over the next 48 hours it was the same for all the team, they would go through some of the decisions and how he felt and how he saw things and work through the work-ons and lessons.
"It's no different to any other player, you go through a process of learning. He was faced with a whole lot of different things today.
"He had some tough decisions that he had to try and make, a lot of them came off and a couple didn't," he said.
Injury assessments on Monday were expected to tell the complete story for lock Brodie Retallick (shoulder) and Ngani Laumape (knee ligament) but both were sore, Hansen said.
New cap Te Toiroa Tahuriorangi had done everything he needed to do when replacing TJ Perenara, who scored two tries in his starting role.
"He came on and just needed to do what he did do; his clearances were great, set up a lovely try with Damian [McKenzie], he did well," he said.
Hansen added that Frizell had performed well, especially when having to play longer than probably intended and both he and Savea had been outstanding in the last 15 minutes.
"He [Frizell] can be really satisfied on reflection how well he's gone and I think he's got a big future," he said.
Captain Kieran Read said there had been an over-eagerness among the newer players when breaks were made, especially in the first half. But they had talked about that early in the game and once the mindset was changed and they had treasured the ball it paid dividends.
"It's part of the game we will have to work on, I don't think the South Africans next week will be any different, we'll have to really treasure the ball," he said.
Read was happy with the way the scrum went and they had put Argentina under pressure from the outset.
"The big boys deserve a pat on the back for that and you never know what you are going to get in the scrum against the Argentinians. They throw a lot of tricks at us and we dealt with it really well today," he said.
There were some lineout issues for the side, but it was an accumulation of things rather than one issue and it was a matter of timing.
"Overall I thought it was pretty good, just a couple of mistimings," he said.
Nelson, the All Blacks' latest home Test venue, had rammed home the point the All Blacks were the peoples' team and Hansen said it had been a most enjoyable time in the city preparing and playing the game on what he said was one of the best surfaces they have played on.