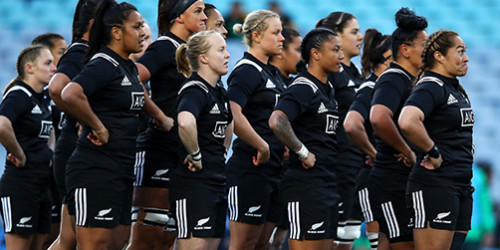 The 2019 Black Ferns contracted squad is (* Denotes first-time contracts):
Forwards:

Eloise Blackwell (Auckland)
Luka Connor * (Bay of Plenty)
Lesley Elder (Bay of Plenty)
Karli Faneva * (Bay of Plenty)
Aldora Itunu (Auckland)
Phillipa Love (Canterbury)
Charmaine McMenamin (Auckland)
Toka Natua (Waikato)
Aleisha Nelson (Auckland)
Te Kura Ngata-Aerengamate (Counties Manukau)
Marcelle Parkes (Wellington)
Jackie Patea-Fereti (Wellington)
Leilani Perese (Counties Manukau)
Charmaine Smith (Auckland)
Harono Te Iringa (Counties Manukau)
Cristo Tofa (North Harbour)
Backs:
Chelsea Alley (Waikato)
Grace Brooker (Canterbury)
Kendra Cocksedge (Canterbury)
Krysten Cottrell (Hawke's Bay)
Ruahei Demant (Auckland)
Dhys Faleafaga (Wellington)
Ayesha Leti-I'iga (Wellington)
Arihiana Marino-Tauhinu * (Counties Manukau)
Kilisitina Moata'ane (Otago)
Natahlia Moors * (Auckland)
Monica Tagoai (Wellington)
Renee Wickliffe (Bay of Plenty)
Selica Winiata (Manawatu)
The squad includes four newly contracted players; Bay of Plenty's Luka Connor and Karli Faneva, and Counties Manukau's Arihiana Marino-Tauhinu.
---
Auckland's Natahlia Moors was also rewarded with a 2019 contract following her call-up for 2018's end of year tour where she made her debut in the black jersey against France in Grenoble.

Black Ferns Head Coach Glenn Moore said he and the selectors believed balancing new and experienced players was crucial for creating greater depth in the Black Ferns squad.
"We're confident we have the mix right. We're in the fortunate position of being able to draw on the experience and skill of seasoned players like Kendra Cocksedge, Selica Winiata and Eloise Blackwell and pair them with new talent, like Luka Connor and Karli Faneva.

Moore said all four of the newly contracted players impressed selectors with not only their performances in the Farah Palmer Cup last year, but also their determination to keep striving and improving outside of the provincial competition.
"Arihiana was named in the Black Ferns in 2015 but is yet to be capped. Her contract is a testament to her strength of character and work ethic to keep chasing her black jersey dream.
"Luka Connor has been on our radar for a while now too. She first trialled for the Black Ferns in 2015 and spent 2018 working her way back from injury. She's worked very hard and deserves her spot.

"Nathalia's speed, skill and determination paid dividends for us last year in France so we're excited to offer her a Black Ferns contract, and Karli was a stand out at our recent emerging women's rugby players camp," Moore said.

He said the contracted players have plenty of motivation going into their local club season too as they weren't necessarily guaranteed a spot in the 2019 Black Ferns squad and the coveted black jersey.

"We have several Black Ferns training camps coming up in the next few months and we'll be bringing in extra players from the wider training squad. That's when we'll get a better idea of how everyone is tracking."

The contracted players will be part of the newly developed programmes for women in the Provincial Unions.

The Black Ferns will play two Test matches against Australia for the Laurie O'Reilly Memorial Trophy on 10 August in Perth, Australia and on 17 August in Auckland. Both matches will be double header fixtures with the All Blacks and Australia contesting the Bledisloe Cup.

Confirmation of the full 2019 Black Ferns international programme is expected in the coming weeks and the first Black Ferns training camp of the year is set for 9 and 10 March in Palmerston North.

?? EXCLUSIVE COLUMN | Fresh from becoming the first female winner of the Kel Tremain Player of the Year Award, @kenj0119 looks back at the year that was 2018.

READ ???? https://t.co/OZQwGk7d7B pic.twitter.com/WchaLS4Fxo— Black Ferns (@BlackFerns) December 21, 2018