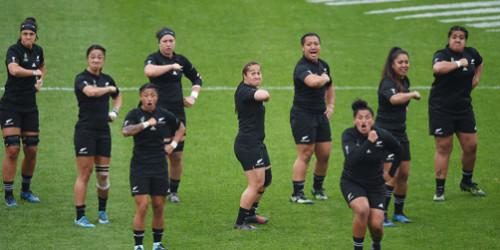 The Black Ferns will play France in Toulon and Grenoble in November, meaning they will play five Tests in 2018 including an already announced fixture against USA, as part of a triple header special at the Chicago's iconic Soldier Field.
New Zealand Rugby (NZR) Chief Rugby Officer Nigel Cass said the two French Tests against the reigning Women's Six Nations champions were an exciting addition to the Black Ferns schedule in 2018.
"Women's rugby is on a high in France following their Six Nations victory earlier this year when they played in front of large home crowds. We're expecting locals will turn out in force to cheer on these two teams. It will be a tantalising couple of Test matches for rugby fans."
Just two more weeks from today - let the countdown begin. #EffortIsEffort #RWC7s @WorldRugby7s pic.twitter.com/eIVQqGMVBX— AIG Rugby (@AIGRugby) July 6, 2018
Game of Three Halves
The Black Ferns preparation for a challenging international season begins with a Game of Three Halves against Bay of Plenty and Auckland on 11 August at Tauranga Domain, NZR announced today.
The match will see the Black Ferns play the Bay of Plenty Volcanix for 40 minutes, followed by 40 minutes against Auckland Storm. The third 'half' will pit Bay of Plenty against Auckland ahead of their Farah Palmer Cup season.
"The Game of Three Halves gives New Zealand fans and provincial players a unique experience. This is a great opportunity for two Farah Palmer Cup teams to have a hit out against the best players in the country. And for fans, it's a fun afternoon of footy. There's no gate charge and everyone is welcome," Cass said.
Come down and see your #BlackFerns stars in action against two Farah Palmer Cup teams on Saturday, August 11th at 12pm. ????

Check out our event ?? https://t.co/p7hII7Xsgg#FarahPalmerCup pic.twitter.com/guPu3pmXdo— Black Ferns (@BlackFerns) July 11, 2018
Laurie O'Reilly Memorial Trophy
Next month the Black Ferns play Australia for the Laurie O'Reilly Memorial Trophy in two double header Test matches, with the All Blacks playing Australia for the Bledisloe Cup in Sydney and then Auckland.
"We know how much it means to the Black Ferns to play in front of family and friends at home and for fans to watch them play, so the matches will be great occasions," Cass said.
New appointment
John Haggart has returned from his role as defence coach at French side Stade Francais to take up a position as Assistant Coach for the Black Ferns. Haggart was formerly International High Performance Manager for the Crusaders and Canterbury Rugby, and has also been Assistant Coach of Canterbury.
Black Ferns 2018 schedule:
Game of Three Halves
Tauranga Domain, Tauranga
Saturday 11 August
V Bay of Plenty Volcanix and Auckland Storm
Kickoff: 12pm (NZT)
Laurie O'Reilly Memorial Trophy
ANZ Stadium, Sydney
Saturday 18 August
V Australia (With All Blacks v Australia)
Kickoff: 5.30pm (NZT)
Eden Park, Auckland
Saturday 25 August
V Australia (With All Blacks v Australia)
Kickoff: 5.00pm (NZT)
FLASHBACK: We take you back to when the #BlackFerns were on set as part of the @AIGRugby #EffortIsEffort campaign that was launched earlier this week ?? pic.twitter.com/cKCymitW9V— Black Ferns (@BlackFerns) June 28, 2018