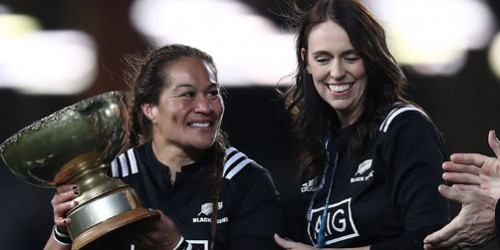 Following their win in Sydney a week earlier, based on their forward power, they won 45-17 at Eden Park with their six tries shared between backs and forwards.
"Every Test we do get on big grounds is awesome for us. To have a fixture alongside the All Blacks today, all the girls are excited, especially at a home turf where your family and friends can be present," she said.
"If we do get a Test on its own that's outstanding, but for us Black Ferns it's just getting more Test matches, getting out there and performing and displaying what the women's game is all about so whether it's on its own or alongside another team like the All Blacks we'll be happy just to play rugby."
With the players going back to their provinces to play Farah Palmer Cup games and with their contracts coming into effect the game was heading in the right direction, she said.
Moore said the side's two Test matches in France in November would be stand-alone games and in a recent stand-alone game between France and England a crowd of 20,000 had attended and French officials were confident they would have good attendances for the Black Ferns games and the New Zealanders were excited about that.